Choosing the right size mountain bike knee pad is tough.
But it shouldn't be.
To size mountain bike knee pads, measure the circumference of your thigh 4-6 inches above your knee cap. Then measure the circumference of the thickest part of your calf. Then, take these two numbers and compare them to the specific knee pads' sizing chart.
It's important to choose the right size knee pad. Too big, and it will slide down your leg as you pedal or, worse, fall down during a crash. Too small, and it will cut off the circulation to your leg. 
Mountain Bike Knee Pads Sizes
Knee pads sizes follow the traditional clothing sizes: extra small, small, medium, large, and extra-large.
But just like clothes, sizes vary between models and across brands. Therefore to get the right sized knee pad, you first need to measure your leg.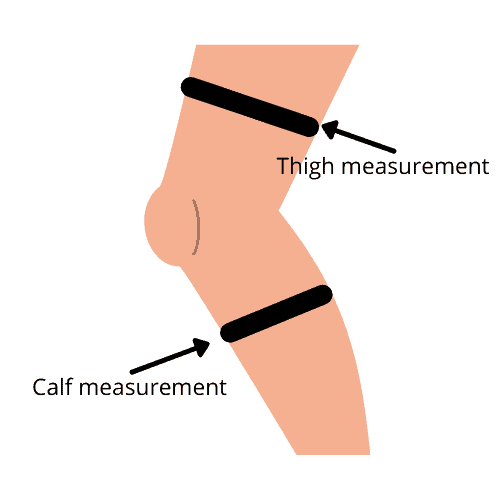 How to Measure Your Leg For Knee Pads
Before you get a knee pad, you need to measure two parts of your leg:
To get both measurements, you need a sewing tape measure or a piece of string. 
For your thigh circumference, measure 4-6 inches up your thigh from the center of your knee cap. A safe bet is to measure up 5 inches. Then wrap the sewing tape measure around your thigh. Finally, recond the number where both sides of the tape measure intersect. This is your thigh measurement.
Now onto your calf. First, find the thickest part of your calf. Now wrap the tape measure around the thickest part. Again, record where both sides intersect. That is your calf measurement.
If you're using a piece of string, repeat the exact same process—mark where both ends intersect. Then lay out the string flat. Use a ruler or a non-flexible measuring tape to measure the length of the string that wrapped around your leg.
Record both of your measurements. It doesn't matter whether you use inches or centimeters. When you look at the size chart, simply convert the measurement via Google into whatever unit is displayed. To do this type in your number and then either, in to cm or cm to in.
Just getting into mountain biking? Check out this how to dress for a mountain bike ride article.
Knee Pad Size Chart
| | | |
| --- | --- | --- |
| Size: | Thigh Circumference (in): | Calf Circumference (in): |
| Extra Small | 14.5 – 16 | 11 – 12 |
| Small | 15.5 – 17 | 12 – 13 |
| Medium | 17 – 18.5 | 13 – 15 |
| Large | 18.5 – 20 | 15 – 16 |
| Extra Large | 20 – 22 | 16 – 19 |
*Chart based on industry averages
How Should Knee Pads Fit
Knee pads should fit snugly. They should be tight when you pull them on and take them off. But not so tight that they cut off your circulation while you're standing or riding.
Thigh Cuff Fit
The thigh cuff is the part of the knee pad that wraps around your upper thigh. This is what holds the knee pad in place. The thigh cuff should be snug. To test the fit, you should only be able to fit a couple of fingers between the cuff and your thigh. If it's an adjustable cuff, perform this test with it cinched tight. 
Calf Cuff Fit
The calf cuff is the bottom end of the pad that wraps around your calf. This part is not as important as the thigh. Yet you should only be able to get a finger or two between the cuff and your thigh. The 
What if You're Between Sizes?
If you're between knee pad sizes, choose the closest size to the circumference of your upper thigh. This is the most important measurement. The thigh strap is what holds your knee pad in place and prevents it from sliding down.
Why You Need the Right Size Knee Pad
There's no getting around it:
Mountain biking is an extreme sport. And a sport that takes place on unforgiving rocks, gravel, and dirt. If you've ever fallen without knee pads, you know how much it hurts and how bloody and battered your knees become. 
But thankfully, we have protection like knee pads and gloves. 
If your concentration lapses and you find yourself hitting the dirt, knee pads are your first line of defense. 
The thick fabric will help you slide along the top of the dirt slowly, reducing your momentum to a stop. During which, the extra padding will protect your knees from getting cut when they impact rocks and roots on their way down.
Summary
I hope this helped you choose the right knee pad size. I strongly recommend you get a pair of knee pads. It's rare to find me on the bike without them. If you have any questions feel free to comment below or reach out to me.