Before we dive in, it's important to note that you must be mindful of the skiers around you, and the downhill skier has the right of way. When skiing on resorts, you may need to watch your speed in order to avoid collisions with other skiers.
There are a few key factors to consider when trying to increase your speed while skiing. These factors can really be summarized into the following:
How to improve your skiing speed by working on your skills
There is a basic understanding among the skiing community that the straighter you ski down a mountain, the faster you will go, and in general, turning will slow you down. This is generally true, but with proper carving technique, you can also increase your speed coming out of turns.
Proper carving technique can take years to master. I recommend starting to learn on youtube. This video outlines carving technique into 5 tips and drills:
Another important factor for increasing your speed is keeping your skis parallel (I grew up calling this "french fries"). The alternative and slower method is a snowplow, where the tips of your skis are close and the back of the skis are farther apart, forming a triangle (I grew up calling this "pizza").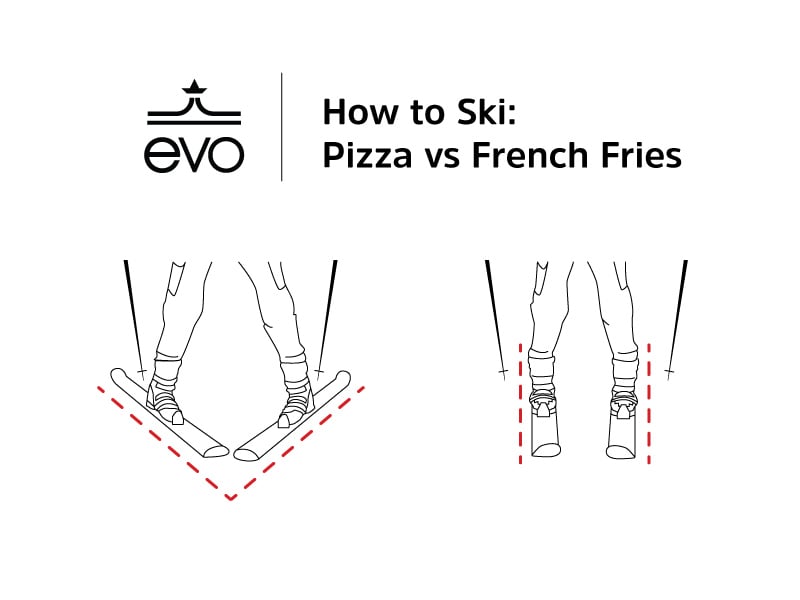 What skiing equipment will make you go the fastest?
Skis: Longer skis in general are known to make you ski faster, but you will sacrifice control. Race skis in particular are the best skis for speed, and will mostly be used on hard-packed snow.
Although it can be tempting to get the longest skis you can, I highly recommend getting fitted to your height, and using a ski size calculator.
Tuning: One of the easiest things you can do to go faster while skiing is to get your skis freshly waxed. Waxing your skis involves coating the underside, and can be done at home or at a local ski shop.
If you're getting your skis professionally waxed, be sure to ask them to sharpen your edges too, so your skis are fully ready to handle any terrain on the mountain.
I recommend watching a youtube video like the one below if you're thinking about trying to wax your skis at home:
What are the ideal skiing conditions for speed?
In general, the icier the snow, the faster you will travel. Icy and hard packed snow are the best conditions for speed, and are commonly seen in professional ski races.
You're more likely to find this style of snow on the east coast of the United States, because there is more moisture in the snow. This also makes it harder to control your turns, and can lead to slipping.
Fluffy, powdery snow is generally slower and commonly found in drier conditions, like the Rocky Mountains. While you may not break any speed records, this snow can be helpful to practice turning fundamentals.
Finally, the steeper the trail is, the faster you will go. This means longer black and double-black diamonds will be the trails that will make you ski the fastest.
To Recap:
There are a couple things you can do immediately to ski faster, like waxing your skis and making sure you have the right equipment.
The best way to learn how to ski faster is to work on your carving fundamentals, and by getting comfortable skiing parallel.
As always, remember that you're sharing the mountain with people who ski at different skill levels, and it's important to be mindful of them when you are skiing at fast speeds.