Wondering what kind of shoes you should wear mountain biking? You've come to the right place. This post will cover exactly that and talk about different shoe options.
When you go mountain biking, wear mountain bike specific shoes or shoes with a flat bottom. Mountain bike shoes are the best choice because they offer the most grip and support. You can also wear shoes with a flat bottom. The flat bottom increases the surface area on the pedal, giving you more grip.
Want to learn why I gave that answer:
Here's what mountain biking shoes are, why you need to wear them, and whether or not they make a difference.
Let's start with the most important topic.
What is a Mountain Bike Shoe?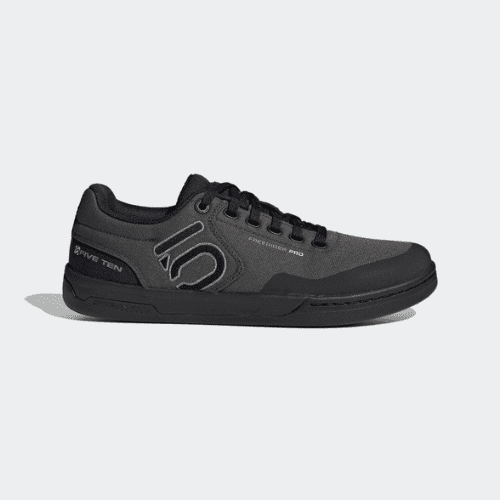 A mountain biking shoe is a type of shoe designed specifically for mountain biking. It has durable fabric, sticky rubber, and a stiff insole.
There are two types of mountain bike shoes: flat pedal shoes and clipless shoes.
Flat pedal shoes have a flat bottom made out of sticky rubber. They are designed specifically for flat pedals.
Clipless shoes have a flat bottom with a small indent. This indent houses a cleat that attaches to a clipless pedal.
All mountain bike shoes fall into one of those two categories.
Now let's look at why mountain biking shoes are the best option:
Why You Need to Wear Mountain Biking Shoes
Mountain biking is an extreme sport.
When you think about it, you're balancing on a bike, riding down the side of a mountain, over rough, jagged terrain. 
There are a lot of forces at play, and each bump wants to throw you off your bike.
Thus, you need a shoe that will keep your foot on the pedal and protect it from obstacles on the trail.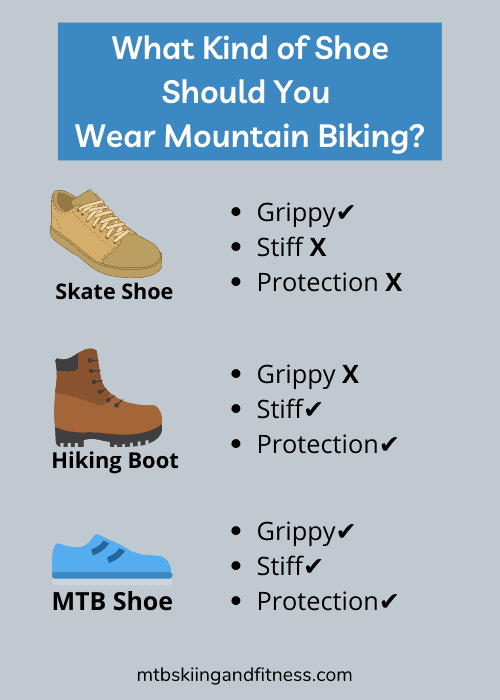 Mountain bike specific shoes are the best footwear for mountain biking because of their grip and protection.
Grip refers to how well the shoe keeps your foot on the pedal. To improve grip, the sole of mountain bike shoes are made out of exceptionally tacky and soft rubber. For example, 5.10 uses a fantastically sticky rubber called Stealth. This makes it easy for the metal pins on the pedal to stick into the shoe, which enhances grip.
Mountain bike shoes also offer better protection and support than street shoes. They have reinforced toes and heels to protect you when you accidentally kick a rock. Typically they also feature foam. 
Some shoes have a reinforced shank to add stiffness. The stiff shank prevents your foot from bending and wrapping around the pedal.
Mountain biking is expensive. If you're just starting out, buying all the new gear can be costly. So what should you wear if you don't have a pair of mountain bike shoes?
Just getting into mountain biking? Learn how to dress properly for a ride.
Alternatives to Mountain Bike Shoes
If you don't have a pair of mountain bike shoes, wear a pair of flat-bottomed skate shoes. The flat gummy bottom will grip the pedal very well. However, be warned that the soft fabric will not protect your foot from impacts on the trail. 
I personally started out mountain biking in Adidas skate shoes. They gave me great grip on the pedals, but the shoe was very soft and didn't support my foot.
If you're going to go the skate shoe route, I recommend Vans, Adidas, and Etnies shoes.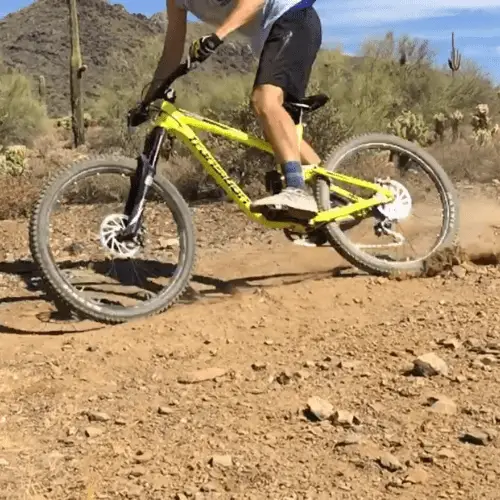 What about Hiking and Athletic Shoes?
Avoid wearing hiking shoes and athletic shoes. 
While hiking shoes are nice and stiff, the bottom of the shoe is not flat and therefore does not grip the pedals well. 
Athletic shoes also do not have great grip. The heel is also typically elevated. This extra distance between your foot and the pedal reduces your control of the bike and makes it easier to injure your foot.
Do Mountain Bike Shoes Make a Difference?
Yes, mountain bike shoes make a noticeable difference. The tacky rubber soles offer better grip which makes it easier to stay on the pedals. Similarly, the added stiffness helps control the bike. While the protection reduces the risk of injuring your foot.
Once you use a mountain bike shoe, you will never go back to using a street shoe. The difference is very noticeable. 
Summary
I recommend that you give mountain bike-specific shoes a try. If you have any questions about this article or about mountain bike shoes, leave a comment or reach out. I would be happy to chat.