There are occasions when you really appreciate mountain bike protection. A helmet goes without saying; back protectors are becoming popular, but should you wear knee pads mountain biking? 
Some riders swear by them, but also many ride without knee pads, so let's get into the details and find out whether or not you need them.
Disclaimer: This page may contain affiliate links.
What are Mountain Bike Knee Pads?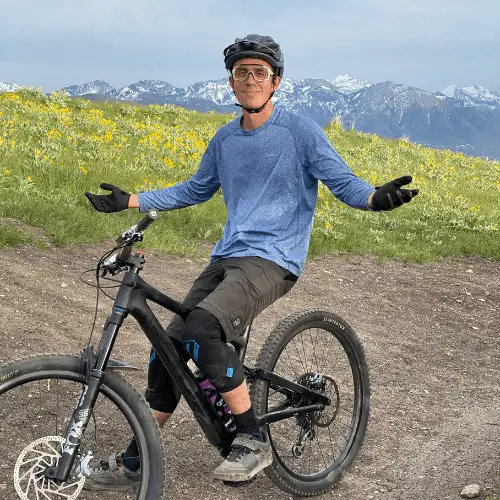 Mountain bike knee pads slide over your knees to protect your joints in a crash. They are made of a fabric sleeve and foam protection. The fabric sleeve holds the pad in place. The dense foam protects the knees during an impact.
There are various types of knee pads. Some are lightweight, while others are more heavy-duty. 
So the fabric sleeve and foam protection will vary in thickness and in the material. Some pads will have minimal protection, while others will feature thicker plastic protection.
Learn what size knee pads to wear here.
Should You Wear Knee Pads Mountain Biking
You should wear knee pads when riding in technical and rough terrain. But there is no need if you're going for a quick ride around the block or on a bike path.
There are many benefits of wearing knee pads, and anything you find negative about them fades to insignificance pretty quickly. Most mountain bike knee pads are super comfortable, so much so that you forget you're wearing them.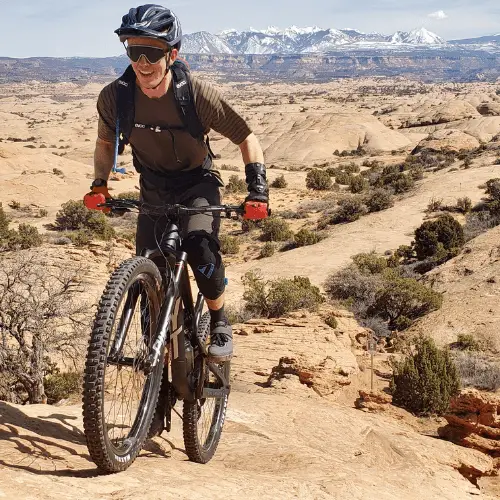 You'll find that lightweight knee pads are initially more comfortable than heavy-duty ones. But they don't have as much protection. You can also buy mountain bike knee pads with different levels of coverage. For example, some are minimalist, while others provide full knee and shin protection. The more coverage you have, the less likely you are to hurt yourself in a crash.
If you only ride easy trails, you can opt for knee pads with less protection or not at all. This way, you have unrestricted movement and lots of comfort.
Should You Wear Knee Pads When Pedaling?
As modern knee pads are so comfortable, most mountain bikers keep them on all day. This is especially the case if the trails they ride are variable, with rocks, roots, and undulations.
However, you may want to take off your knee pads for big climbs or long road sections on a hot day.
When Should You Wear Knee Pads
As we mentioned earlier, you may not want to wear mountain bike knee pads on easy trails. But there are times when they will be invaluable.
On Trail rides
When you're trail riding, a pair of light to mid-weight mountain bike knee pads are best. They aren't so bulky your movement is restricted, but they provide more protection than cross-country knee pads. I use these mid-weight 7iDP pads on all my trail rides.
In the Bike Park
Bike parks can be pretty dangerous places, which is part of the fun. But you'll benefit from wearing heavy-duty knee pads with shin protection. These knee pads are usually made from hard plastic and protect you from high impacts when riding technical downhill trails and hitting jumps. Fox and Dakine both make great bike park pads.
Summary
So should you wear knee pads mountain biking? The simple answer is yes. They don't just provide protection when you crash, but they also help you feel more confident when riding, especially when you ride new trails or want to progress your skills.