Mountain biking shorts are not like your average chinos.
Here is my succinct guide to everything you need to know about them.
Let's start with a quick definition:
Mountain biking shorts are shorts made out of durable fabric with a long cut that passes your knees. They have built-in chamois (padded underwear), zippered storage pockets, vented thigh panels, and an adjustable waistband. They are designed specifically for mountain biking.
Regardless of whether you're new to the sport or a veteran, all those details can be a lot to take in. So in this post, I break down mountain bike shorts, looking at their key features and whether or not they're worth it.
Mountain Bike Shorts Explained
Mountain biking shorts are designed specifically for the rigors of riding a mountain bike.
They have to withstand riding up and down hills all day, the occasional crash, and they can't inhibit your pedaling.
To achieve this, mountain biking shorts have four unique features.
Longer length
Extra durability
Built-in Chamois
Mountain bike specific features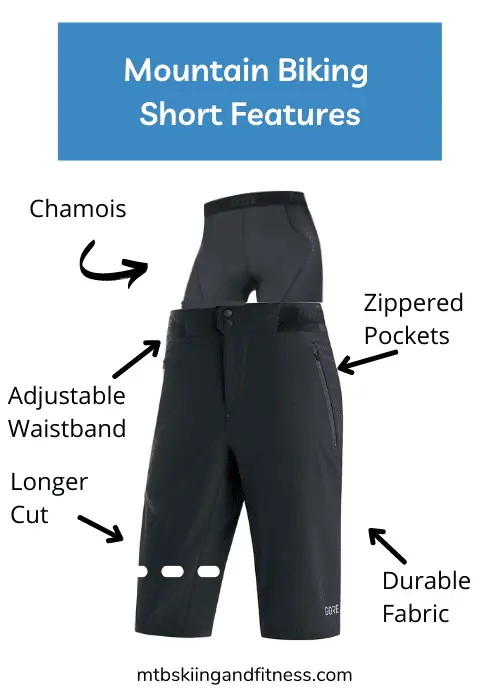 Let's start with the length.
The Length of Mountain Bike Shorts
The first thing you'll notice about a pair of mountain bike shorts is their length. The short extends past your kneecap down to the bottom of your knee. This length improves how the short integrates with knee pads and provides extra protection.
As the sport progressed from fully-rigid bikes to today's go-anywhere trail bikes, more mountain bikers started wearing knee pads. Clothing manufacturers adjusted to this trend and made their shorts longer. The extra length overlaps the knee pad and ensures no gap between the short and the pad when you pedal.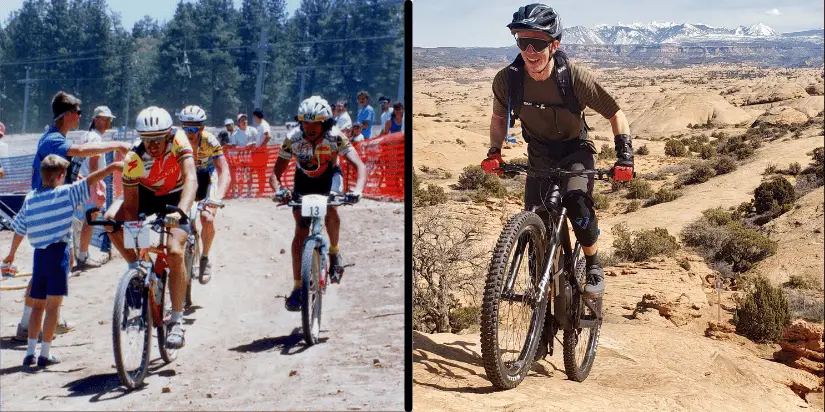 Further, the extra length increases the total coverage of the short. More coverage equals more protection when you hit the dirt. 
This brings me to our next point. Mountain bike shorts are very durable.
Just getting into mountain biking? Read this post and learn how to dress for your typical ride.
Mountain Bike Shorts Are Durable
Mountain biking is a rough sport. Whether you're getting slapped in the legs by bushes or sliding across the dirt, mountain bike shorts have a tough life. Thus they have to be extremely durable.
The Fabric
Mountain bike shorts are made out of a blend of nylon and spandex fabric. The ratio is at least 90% nylon. The Nylon is what makes the short durable. The spandex gives the short some stretch to make it pleasant to pedal in. 
The specific fabric and blend differs between brands and models. Common fabrics include Cordura and Bluesign.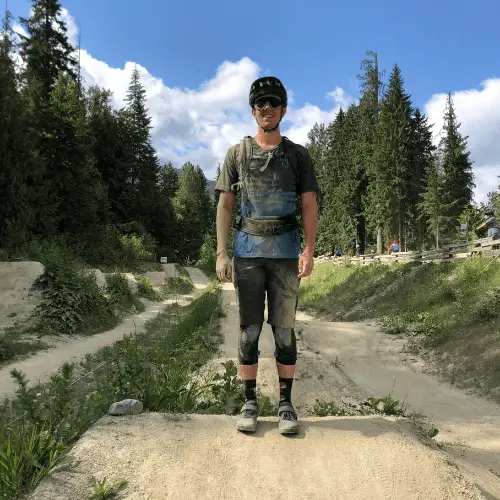 Reinforced Fabric
You'll also find reinforced areas all over the short. Any seam likely to experience reptitive force, like the seat and leg seams, will be reinforced for added durability.
Weather Resistant
Mountain biking takes place in the elements. So rightly, shorts are often treated with a Durable Water Repellent (DWR) coating and are built with windproof fabric.
Now onto the most controversial part of the short:
What Are Mountain Bike Chamois aka Liners
Chamois are a unique feature in a pair of mountain bike shorts. 
Also referred to as liners, chamois are a bike-specific pair of underwear that has padding in the tailbone area. This padding makes it more comfortable to sit on the bike seat and reduces chafing. Most mountain bike shorts come with a pair of chamois.
Most chamois are detachable, so you can pull them out of shorts and wash them separately. Or, if you're brave enough, ride without them. RIP your tailbone.  
Not all shorts come with liners. But if you look at the product description, you can find out whether or not it includes liners. I highly recommend you buy a pair with them.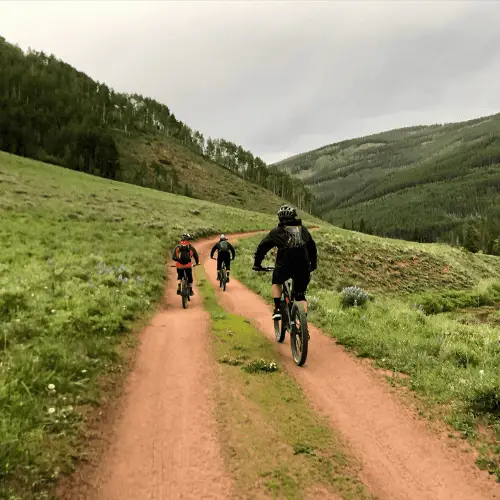 Other Bike-Specific Features
The tech doesn't stop there. Mountain bike shorts have some other great features made specifically to improve your experience on the bike. 
Most shorts have zippered pockets. This prevents your phone and snacks from bouncing out on the ride. 
It's common to find shorts with a silicone waistband. This prevents it from sliding down while riding. Most shorts also feature velcro size adjustment flaps on the hips.
Lastly, most mountain bike shorts have thigh ventilation. This bonus feature promotes airflow. Which in turn reduces how much you sweat.
Do You Need Mountain Bike Shorts?
If you mountain bike at least twice a month, mountain bike shorts are a must. They make it easier to pedal, provide extra protection and ventilation, plus have zippered pockets to store your valuables. After a helmet, put mountain bike shorts next on your list of gear must-haves.
If you have any questions, don't hesitate to reach out. I would be happy to chat about all things mountain biking.