Cyclists get a bad rap for wearing tight jerseys.
But that shouldn't apply to all mountain bikers.
Here's how your jersey should fit.
A mountain bike jersey should fit snugly like a well-fitted t-shirt. It shouldn't be too tight as it will be uncomfortable and hot. Nor too loose, as you will risk snagging it on the trees and bushes on the side of the trail. 
There's no getting around it:
Mountain bike jerseys can be expensive. 
And while a t-shirt or a white-labeled athletic shirt will work just fine. There is no going back once you wear a jersey made out of premium fabrics.
But before you run and buy a new jersey, let's talk about how it should fit.
The Perfect Jersey Fit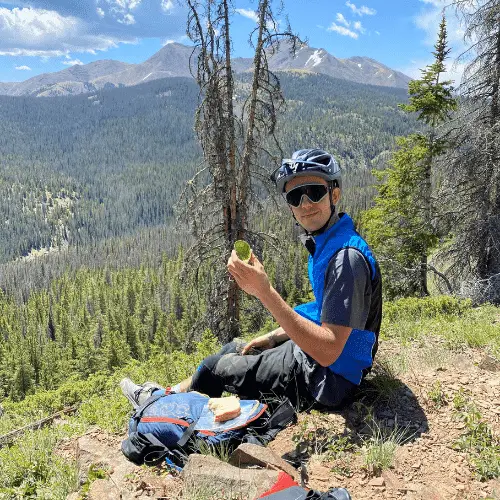 A mountain bike jersey should fit like any well-fitted t-shirt or dress shirt. It shouldn't be so tight that it leaves nothing to the imagination, but it also shouldn't look like you're wearing a trash bag.
The sleeves should be barely snug on your arms. They can be just loose enough that you can fit all of your fingers underneath the sleeve. 
The jersey's body should conform to your torso, but it should not be skin tight. The only exception is if you ride cross country and you want to wear a full lycra kit. 
For the length. The jersey should come down just to the top of your bottom. This length ensures there is enough fabric to prevent plumber's crack. But if the jersey is too long, you risk catching the tail of it on your seat.
Here's a jersey size chart to help you find the right size.
Just getting into mountain biking? Read this post and learn how to dress for a typical mountain bike ride.
Mountain Bike Jersey Size Chart
| | |
| --- | --- |
| Size: | Chest Circumference (in): |
| Small | 36 – 38 |
| Medium | 38 – 40 |
| Large | 41 – 43 |
| Extra Large | 43 – 45.5 |
| XX – Large | 46 – 50 |
*Chart based on industry averages
Now let's address the other ends of the fit spectrum and talk about when they are ok:
Slim-Fit Jerseys
Slim-fit mountain bike jerseys are associated with cross country riding.
A slim-fit jersey should fit like a dress shirt. The sleeves should be tight on your arms, with the shoulder seams perfectly matching your shoulders. The hem of the jersey should sit at your waist.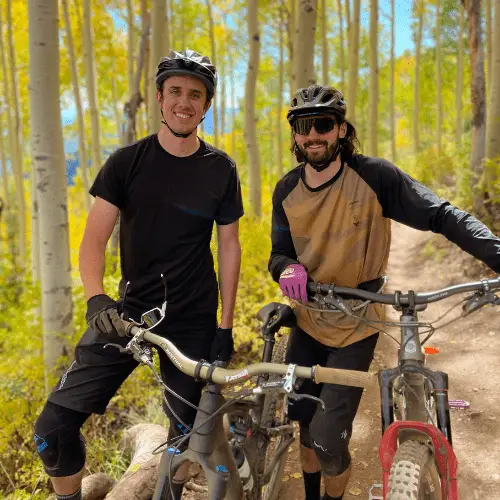 But what about lycra jerseys? 
Cross country riders tend to wear skin-tight lycra jerseys and shorts. They wear them, just like road cyclists, to reduce wind drag. If you're an xc rider and want to wear a slim fit jersey, more power to you. When I own a full XC bike, I probably will too.
But if you're just a casual rider, I would steer clear of exceptionally tight jerseys. There's no need to wear them if you're not racing.
You can wear a slimmer-fit jersey if that's your style. But make sure to wear slim-fit shorts as well to create a proportional silhouette.
Now onto baggy jerseys:
Loose Baggy Jerseys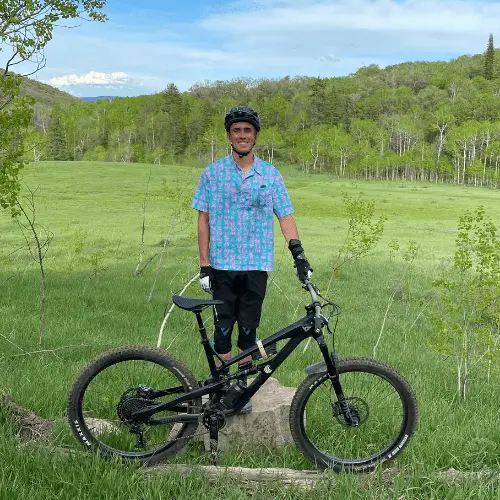 Loose mountain bike jerseys are associated with the gravity end of the sport, downhill, and enduro. These riders wear loose jerseys because they might have body armor on underneath the jersey and they are not concerned with the drag it creates
A loose mountain bike jersey should fit like a baggy t-shirt. The shoulder seams should hang off of your shoulder, and the hem of the shirt should go down to the middle of your bottom.
Loose jerseys are super breathable and don't restrict your movement. But if they are too baggy, they can get caught on your seat or sharp branches poking into the trail.
I recommend if you want to try a loose-fit jersey, first look for a jersey that states explicitly that it's a loose fit. Get in the same size you usually wear and give it a go. Don't just size up right away.
Summary
As a rule of thumb, make sure the cut of your jersey matches the cut of your shorts. This will create a proportional silhouette. I'm not the end all source of style advice, this is just what I've seen out on the trail.
Feel free to change it up to match your personal style and the type of riding you enjoy. Have a question or a comment? Feel free to comment below or shoot me an email. I'm happy to chat.