It is not easy buying a mountain bike helmet.
With hundreds of options in the market, it can be tough to choose the right one.
But it doesn't have to be:
When looking for a new mountain bike helmet, look for the right type of helmet for your riding discipline, choose the right size, make sure it has good protection, choose whether you want a visor, and get it in a color you like. 
That can be a lot to take in.
So let's break it down:
First, Look for the Right Type of Helmet
First, you need to look for the right type of helmet.
There are three main types of mountain bike helmets:
Half shells
Full faces
Hybrid helmets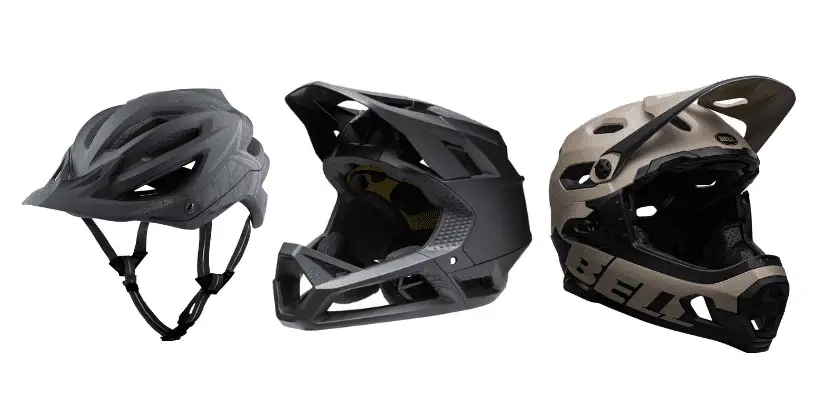 Half shell helmets are your typical mountain bike helmet. They only cover the top half of your head. They are breathable and comfortable. This type of helmet is ideal for trail riding, commuting, cross country, and enduro riding. When in doubt, this is the type of helmet I recommend.
Full face helmets cover your entire head, including your cheeks and chin. They are designed for downhill riding, aggressive enduro, and dirt jumping. If you're going fast in rough terrain, getting a lot of air, and not pedaling much, this is the helmet for you. 
Hybrid helmets are half-shell helmets with detachable chin protection. These helmets became popular as the enduro discipline grew. If you like to pedal uphill to the top of a rough trail, then rip down to the bottom, this type might be for you. 
After choosing the right type of helmet, it's time to dial in the size.
Just getting into mountain biking? Read this post and learn what else you need to wear on a ride besides the helmet.
Choose the Right Size Helmet
Helmets are there to protect your head when you run out of talent and end up in the dirt.
The last thing you want is your helmet sliding off.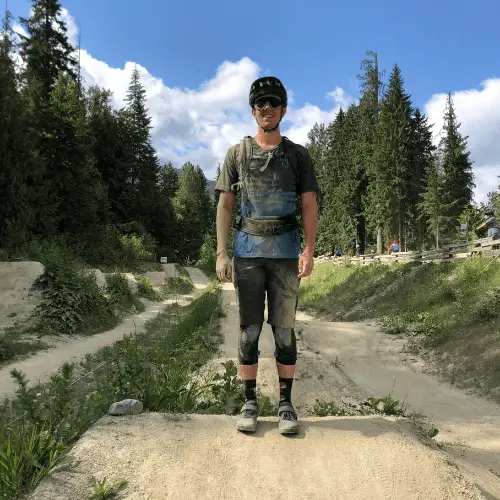 Thus you need to get the right size. Thankfully helmets follow a standard size chart based on the circumference of your head. 
To measure your helmet size, measure around the widest part of your head. Now take that measurement, compare it to the size chart, and see your helmet size. 
Mountain Bike Helmet Size Chart
| | |
| --- | --- |
| Size: | Head Circumference (in): |
| Small | 20.5 – 22 |
| Medium | 22 – 23 |
| Large | 23 – 24 |
| Extra Large | 24 – 25.5 |
*Chart based on industry averages
Or, if you know your fitted hat size, you can simply use this chart to convert to inches.
Tip: Make sure you get a helmet with a fit adjustment system. This helps you tune the fit to your head.
Look for a Helmet with Good Protection
This is arguably the most important factor. Take some time and read the product description. Make sure the helmet has good protection.
First, look at the coverage of the helmet. Does it cover most of your head? Specifically, look at the back of the helmet. Make sure it comes down to just above your neck.
Now, look at the materials. 
Look for an outer shell made out of polycarbonate plastic or carbon fiber. These are the premium options. Alternatively, an ABS (Acrylonitrile Butadiene Styrene) shell will suffice, though it will be brittle. 
For the inner foam, you're looking for EPS (Expanded Polystyrene) or EPP (Expanded PolyPropylene) foam. These foams are the best at absorbing the force of an impact.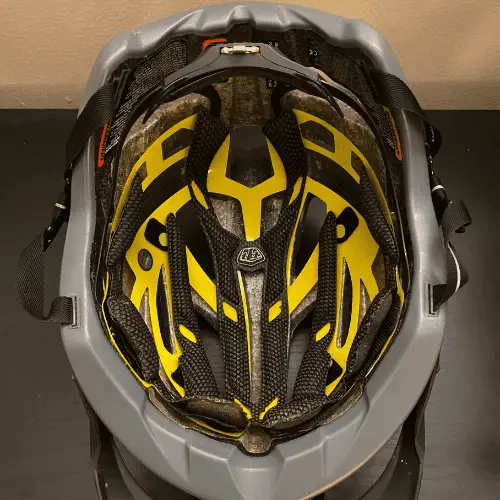 Also, keep an eye out for extra features:
Helmets are getting advanced, and it's easy to find a helmet with added protection features. 
Keep an eye out for any anti-rotational systems like MIPS, POC Spin, or WaveCell. These are a must-have. One can also opt for premium features, like Specialized's ANGi, a helmet-mounted sensor that measures impact forces and calls for help during a crash.
Choose Visor or No Visor
Today almost all mountain bike helmets come with a visor. But if it's not your style, you can easily take it off. 
Helmet visors help keep both the sun and rain out of your eyes. But some riders opt to take them off to reduce wind resistance and fit their style. I recommend you always wear a visor unless you're racing cross country.
But hey, it's your helmet.
Pick Your Buckle
It's a minor detail, but brands now offer different buckles to differentiate their helmets. 
There is the standard clip buckle, new magnetic closures, and sideways slide closures.
Pick the style you like best, and make sure you know how to buckle it.
Let's wrap this post up with an essential consideration.
Choose a Color Pattern You Like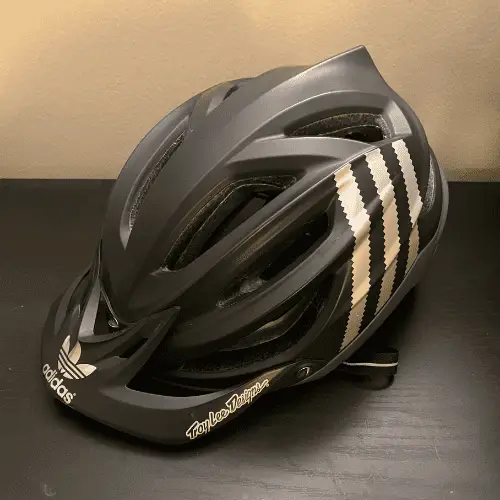 Lastly, choose a color that you like.
Your helmet is a great way to express yourself on the trail. Since you're going to have this helmet for a couple of years, it's worth shopping around to find a color or pattern you love.
I love the colors of both the Troy Lee Designs and the Smith helmets.
When in doubt, go with a neutral earth tone color. It will always go well with your kit.
Summary
I hope this article made it easier to choose a mountain bike helmet. Remember to choose the right type of helmet for your riding discipline, choose the right size, make sure it has good protection, choose whether you want a visor, and get it in a color you like. 
If you have any questions feel free to leave a comment or shoot me an email.