Do you want to learn more about ski bibs? You're in the right place. This article will explain what a ski bib is and cover everything else you need to know about these winter snow pants. 
---
Table of Contents
Disclaimer: This page may contain affiliate links.
---
What is a Ski Bib?
A ski bib is a water resistant snow pant, that extends up to your stomach. The top of the bib has straps that go over your shoulders to keep it in place. The extra fabric prevents snow from getting in the top of the bib and helps retain body heat.
But how do bibs compare to ski pants?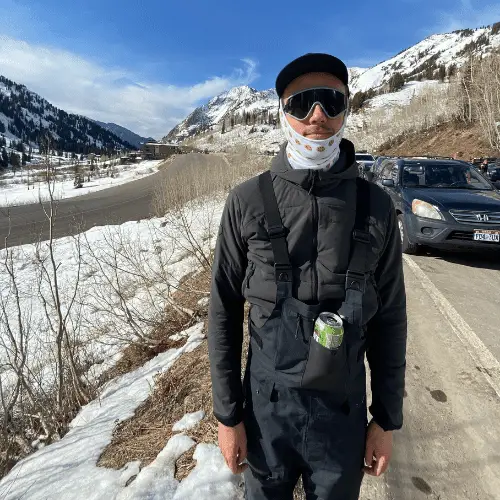 Ski Bibs vs. Ski Pants
While ski bibs and ski pants might seem very similar, subtle nuances separate the two.
Ski pants are great if you ski casually and don't ski powder. They are easier to put on and feel similar to your everyday pants.
On the other hand, ski bibs are warmer and are better for powder. The fabric that extends up to your stomach acts as a seal, which helps retain body heat. This helps keep you warm on those bitter cold days. It also extends up you back which makes it tougher for snow to get into the pants.
Bibs are more comfortable than traditional ski pants. The shoulder straps prevent them from sliding down as you ski. 
Lastly, bibs have more pockets than ski pants. With more fabric comes more room for pockets. Bibs have pockets on the chest panel and the legs, whereas ski pants only have leg pockets.
(Love skiing? Learn about the six different types of alpine skis.)
Ski Pants:
Waist to feet
Average number of pockets
Warm
Not good at keeping snow out
Good in ski resort
Ski Bibs:
Stomach to feet
More pockets
Warmest
Great at keeping snow out
Good for ski resort, freeride, backcountry
Why Do People Wear Ski Bibs?
Skiers and snowboarders wear bibs because of their superior protection and warmth. The extra length increases their insulation and keeps the snow and wind at bay. At certain times, bibs are also considered very fashionable.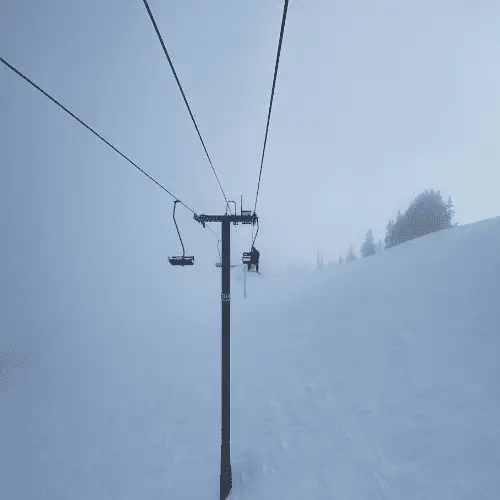 What Do You Wear With a Ski Bib?
Ski bibs are your outer waterproof layer. So under them, wear socks and a base layer bottom. 
Adjust the thickness of the base layer and socks depending on the temperature. If it's really cold or you're going to be outside all day, consider adding a layer of insulated shorts.  
On your torso, put on your base layer and your mid layer first. Then, pull the bibs up over these layers and buckle the shoulder straps. Tucking in your layers will keep you super warm. 
Then wear your ski coat over the bibs. 
Learn more about the best ways to layer for skiing in this post.
How to Size Them
Ski bibs fit just like normal pants. So get whatever size you usually wear. If you're taller than average, size up one size, so they are long enough.
What Are They Made Out Of?
Ski bibs are made out of two or three layers of fabric. The outer layer is a durable fabric coated with durable water repellent (DWR). The next layer is a waterproof and breathable fabric like (Gore-Tex). This layer is only on 3L bibs. Then there is the lining, which is closest to your skin. In a 2L bib, the lining includes insulation.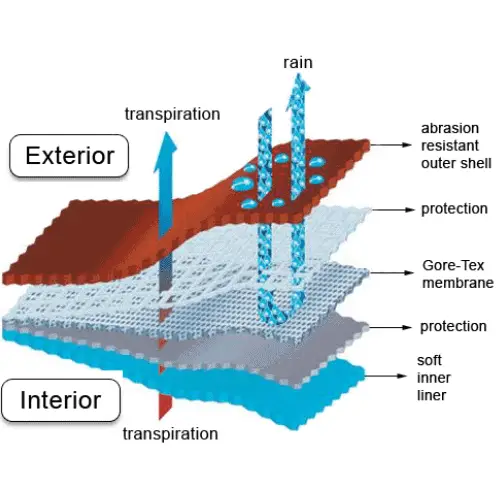 Two Layer (2L) vs. Three Layer (3L)
Two-layer bibs are cheaper and have more insulation. They are heavier and bulkier. They are great for resort skiing and playing in the snow.
Three-layer bibs have two membrane layers on the inside of the face fabric. The middle layer is a traditional waterproof membrane. The membrane closest to your skin is hydrophilic, aka water-absorbing. This wicks away any sweat inside of the garment. Three-layer garments are lightweight and more expensive. These garments work best for freeride skiing and ski touring.
You might be wondering, if two-layer bibs have more insulation, why are they cheaper? It's easy for ski gear manufacturers to add insulation to pants. It's tough to create a thin, durable waterproof shell and the materials needed in 3L bibs are more expensive.
How to Wash Ski Bibs
Get a wet rag and wipe any dirt off of the face fabric.
Then put your bibs in the clothes washer and add a Nikwax Tech Wash. 
Wash the bibs according to their care instructions. 
If the bib's waterproofing has worn out, wash them a second time using Nikwax Wash-In.
Then follow the garments care instructions and either line dry it or run it through the dryer. 
(Tip: Buy the Tech Wash and Wash-In together, it's cheaper and you're bound to use them.)
Ski Bib Recommendations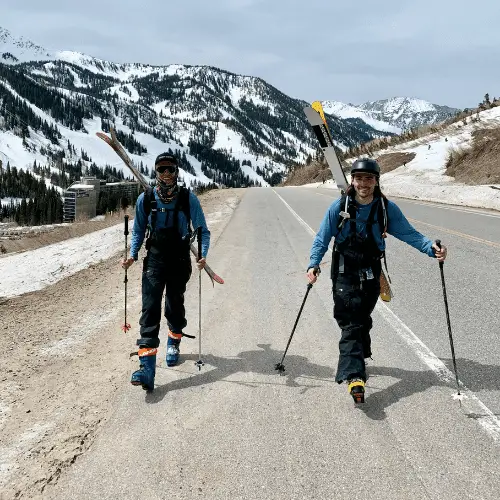 Men
Backcountry Cottonwoods Gore-Tex Bib – Two seasons ago, Backcountry launched their own in-house line of outerwear. I've been impressed. It has all the pockets and vents you can dream of and is made out of premium Gore-Tex. I recommend this if you're looking for an all-around bib that will last years.
Flylow Baker Bib – This is the bib I personally wear. I love the chest pocket and the full-length side zipper. I recommend this bib if you like to ski aggressively and you might tour in them. For sizing, I am 6'3.5 180lbs, and I wish I would have gotten a size large for the length. 
Women's
Women's Backcountry Cottonwoods Gore-Tex Bib – Backcountry's in-house line never ceases to impress me. I love the function and value you get from these bibs, not to mention all of the colors you can choose from. If you're serious about skiing or snowboarding, you won't be disappointed.
Burton Avalon Bib – I've always been a fan of Burton's gear. Even though they are a large brand, they have done a great job of not losing touch with what the end consumer wants. These bibs are no exception. They have great pockets, vents to keep you cool when needed, and come in a variety of great colors.
Conclusion
Bibs are a great option if you love being outside in the snow. I sure love my pair. I hope this article thoroughly explains ski bibs if you have any questions feel free to reach out.