Do you want to learn more about glade skiing? If so, you're in the right place. I am an avid skier who skis 60+ days a year and a former children's ski instructor. This blog covers everything I know about glade skiing.
---
Table of Contents
Disclaimer: This page may contain affiliate links.
---
What is Glade Skiing?
Glade skiing is skiing through spaced-out trees at a ski resort or in the backcountry. A glade is either a natural clearing in the trees or a ski run where a resort has thinned out the forest.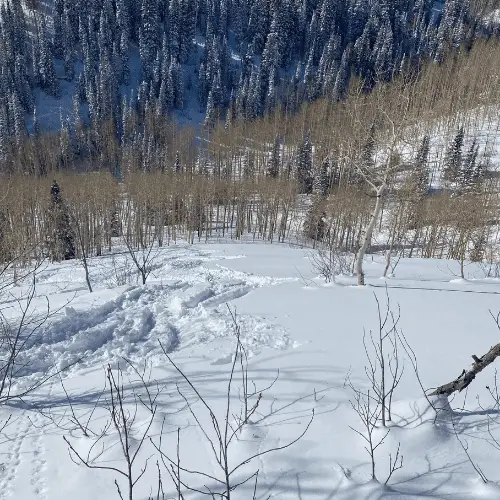 What is a Glade at a Ski Resort?
A glade at a ski resort is an ungroomed (off-piste) ski run with spaced-out trees.
Gladed runs are either natural or man-made.
Glades occur naturally in forests, so most ski areas have glades. They are typically found on the sides of groomed ski runs.
In North America, our tree line continues up to a high elevation. Thus, when ski resorts create ski runs, they have to make clearings down the mountain. The trees that remain on the mountain and in-bounds become glades.
However, some resorts choose to make man-made glades.
Here, the ski resort selects a portion of the mountain with excellent skiing. They then go into the forest and remove some trees, thinning out the forest.
This creates perfectly spaced-out trees that are easy to ski. Ski resorts make glades if their forest is especially dense or they want to create a better experience for guests.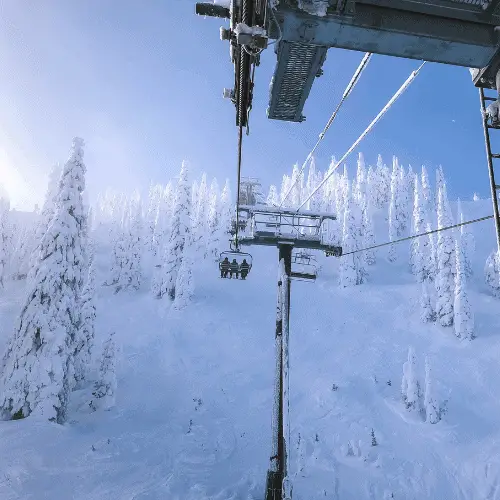 Are Glades Hard to Ski? 
Glades are harder to ski than a groomed ski run. The trees act as obstacles and reduce the width of the run. Further, glades ungroomed, and therefore the snow is variable and changes with the conditions. 
If it hasn't snowed in a while, the glade will have moguls. If it has snowed, it will have fresh powder.
But the good news is most ski resorts have glades that match your ability level. If you're a beginner, head to the green runs. If you look off to the side, there are sure to be some openings in the trees where you can ski. If you're advanced, that ungroomed black run is likely a glade. 
The Best Skis for Glades
The best skis depend on the condition. If the snow is hard, an all-mountain ski is the best choice. They have a narrow waist width and are great at holding an edge. I recommend the: Black Crows Atris, Blizzard Rustler 10, and the Women's Rossignol Blackops Rallybird.
If there is a lot of fresh snow, a powder ski or a freeride ski is a great option. The wide waist width paired with rockered tips helps them float on top of the snow and makes them easy to turn. In these categories, I recommend: Black Crows Anima, Salomon QST 106, K2 Mindbender 108Ti, and the Women's Line Pandora 110.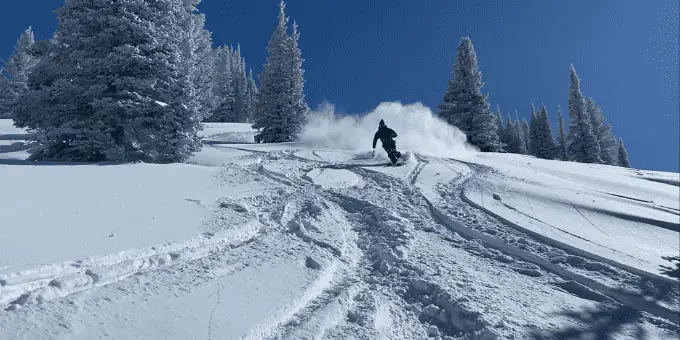 Tips for Skiing Glades
Skiing glades can be dangerous, but it doesn't have to be. If you follow these tips and start slowly, you can ski them safely and have fun.
Master the Fundamentals – Before you venture into the trees, make sure you can turn and stop yourself. Preferably without using a wedge, aka snowplow.
Pick Your Line – When you first get into the trees, stop and look down the run. Visualize your first 2 – 4 turns between the trees. This is called picking your line. Then drop in and ski those turns. Stop and repeat the process. As you get better, you'll be able to choose your line as you ski.
Look Ahead – There is no time to look at the tips of your skis in a glade. Look up and ahead as you ski. This will help you navigate the trees. As your abilities improve, you'll find that skiing becomes second nature, and you can focus solely on picking your line.
Ski it Twice – You need practice to master glade skiing. So after you ski the glade once, go up and do it again. This time it'll be easier because you know where to go.
Ski with a Friend – Skiing glades can be dangerous, so bring a friend. That way if you get stuck in a tree well, you have someone to help you get out.
Glade Skiing in North America
In North America, there is fantastic glade skiing. Here are some of the best resorts for skiing in between the trees.
Alta, Utah – While not specifically denoted on the trail map, Alta has tons of glade skiing. Outside of a select few groomed runs, most of Alta is natural terrain. Thus there are glades for all ability levels, especially for advanced skiers.
Big Sky, Montana – There are glades for everyone at this Montana resort. Andesite Mountain has great beginner glades, while the experts will love Lone Mountain.
Jackson Hole, Wyoming – The Teton and the Apres Vous chair have access to fantastic glade skiing. There are some blue run options here, but Jackson Hole is mainly known for its steep black runs.
Northstar, California – This resort has a glade for everyone. It has six specific glades on the trail map with plenty more to be found with a little bit of exploration. 
Wolf Creek, Colorado – This resort gets the most snow of any Colorado ski resort. They also have great glade skiing, with half of the crowds typically found at a Colorado resort.
Summary
I hope this post clearly explains glade skiing. They are your best friend on a powder day. Just make sure you know how to ski them and where to find them first. If you have any questions, feel free to reach out. Until next time.