Curious about that extra waistband inside your ski jacket? You're in the right place. Here's everything you need to know about a powder skirt. 
---
Table of Contents:
Disclaimer: This page may contain affiliate links.
---
What is a Powder Skirt?
A powder skirt is a piece of fabric on the inside of a ski jacket, just above the hem. It has a grippy elastic band and a snap closure. Which, when closed and cinched, creates a seal preventing snow from entering the jacket.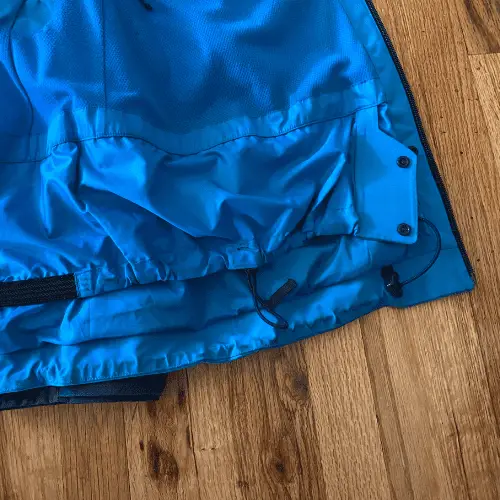 But why does one need a powder skirt:
The Purpose of a Powder Skirt
Powder skirts are designed to keep the fresh snow from spraying up into your jacket and getting you wet on a powder day. Whether or not it's a powder day, it also prevents snow from entering your jacket when you fall. 
A powder day is a ski day when there is a lot of fresh snow:
While all this snow is very fun to ski, it's very light. So occasionally, when you turn, it flys up in the air. The seal created by your powder skirt prevents snow from entering your jacket and then melting, ultimately making you cold.
Have you ever fallen skiing and gotten snow up your jacket? A powder skirt also prevents snow from entering your jacket when you fall. No matter if it's a super deep powder day or a sunny spring day.
(Note: A powder skirt keeps the snow out but base layers keep you warm on snowy days.)
Non-Removable vs. Removable
There are two types of powder skirts, non-removable and removable.
The most common type of powder skirt is non-removable. Here the skirt is sewn into the jacket. Non-removable skirts create the best seal against the outside snow. However, the downside is that you can never remove them.
Non-removable powder skirts are great for resort, freestyle, and freeride skiing.
Removable powder skirts are attached to the jacket by either a snap or zipper closure. This lets you remove the powder skirt at will. The downside is that these closures can partially open while skiing and let snow in the jacket.
Removable powder skirts are commonly found on backcountry ski jackets, where some consider them to be cumbersome.
Non-Removable:
Most waterproof
Warmest
Not great for warm days
Removable:
Can remove on warm days
Can come unsealed
Not as waterproof
---
Ski Jackets with Powder Skirts That I Recommend:
Mens:
Womens:
---
Pant Compatibility
Some powder skirts are pant compatible. They either have a loop to attach the skirt to the pants or have snaps that interlock with a specific pair of pants: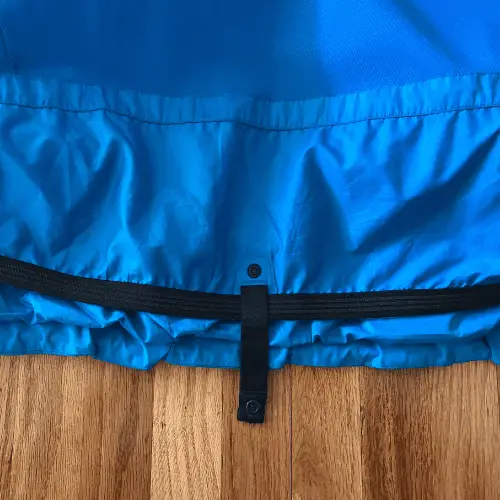 There is often a loop on the back of the powder skirt with a snap closure. This loop is designed to be run through a belt loop on your pants and snapped shut. The closure prevents the skirt from sliding up and allowing snow to enter your pants.
Commonly ski brands will create a jacket and a pair of pants that goes together. They will often be in the same product family and have a similar naming convention. Here you'll find one end of a snap closure on the powder skirt and the other on the pants. 
Pant compatibility enhances the protection of the powder skirt, and it's worth searching for.
Do You Need a Powder Skirt?
If you ski or snowboard, you will benefit from a powder skirt. The extra protection will keep all the snow and wind out of your jacket.
Once you use a powder skirt on a powder day, you'll never go back. You'll stay warm and dry all day and be amazed at how it protects you from the elements.
They also excel at keeping the wind out of your jacket. Imagine you're sitting on a cold, windy chairlift. That seal at the bottom of your jacket will keep the wind from chilling you to the core.
Lastly, on those rare times when you take a fall, a sealed skirt will keep you from getting snow in your jacket and ruining your day. If you're a beginner, a powder skirt is your best friend.
How to Wear a Powder Skirt
First put on all of your base layers and mid layers.
Second, put on your ski pants.
Next, put on your ski jacket but don't zip it.
Grab both ends of the powder skirt and buckle the closure.
Attach the powder skirt to your pants if there is the option.
Then tighten the skirt using the cinch until it's snug around your waist. 
Finally, zip your jacket up and go skiing.
Alternatives
The only alternative to a powder skirt is a ski bib. These pants extend up to your waist, making it tougher for snow to get inside of them.
For maximum protection, combine a powder skirt with a bib. This is the best way to stay warm and dry on a powder day. This is what pro skiers wear in the backcountry or skiing powder.
Summary
There is everything you need to know about powder skirts. If you don't have one already, I highly recommend you investing in one. Feel free to comment below if you have any questions.