Want to learn more about powder skis? You've come to the right place. In this blog, I explain powder skis and answer frequently asked questions.
This blog aims to cover everything you need to know about powder skis.
Whether you want to buy a new pair of skis or you're deciding what type of ski you should rent for your trip, this blog will answer all of your questions.  
By the end of this article, you'll be able to chat powder skis with anyone confidently. You'll also know exactly what type of ski you need the next time the mountain gets hit with a storm.
This is one article in my six-part series that explains every category of alpine ski. You can check out the rest of the articles here.
---
Table of Contents:
Disclaimer: This page may contain affiliate links.
---
What is a Powder Ski?
A powder ski is a wide ski with a lot of tip and tail rocker designed to float in fresh snow. 
Powder skis are designed specifically for skiing in fresh deep snow. They are wider than all other types of skis and have a more aggressive rocker profile. The name "powder ski" refers to how the ski is designed for powder snow, a slang term for freshly fallen soft snow.
Specific dimensions of powder skis vary between models. But generally, they have a wide waist width greater than 110mm, large tips, medium to large tails, and a turning radius between 15m and 24m. 
Three Characteristics that Define Powder Skis
Wide Waist Width – Powder skis are very wide underfoot. This wide waist width gives the ski more surface area. The surface area helps the ski stay on top of the fresh snow. Staying on top of the snow makes it easier to turn the skis.
Aggressive Rocker – Powder skis have aggressive rocker in the tips and tails. When you look at these skis, you'll notice that the tip and tail quickly rise up away from the snow. This is called rocker or reverse camber. As the ski moves forward through the snow, the rocker helps the ski rise to the top and plane. 
Short Effective Edge – The metal that runs along the side of your ski is called the edge. The length of the edge that touches the snow when your ski is flat is called the effective edge. Powder skis have shorter effective edges than other types of alpine skis. The rocker in the tips and tails reduces how much of the edge touches the snow. Why does this matter? The shorter effective edge makes it easier to pivot powder skis in fresh snow, but makes it tough to carve on groomed snow.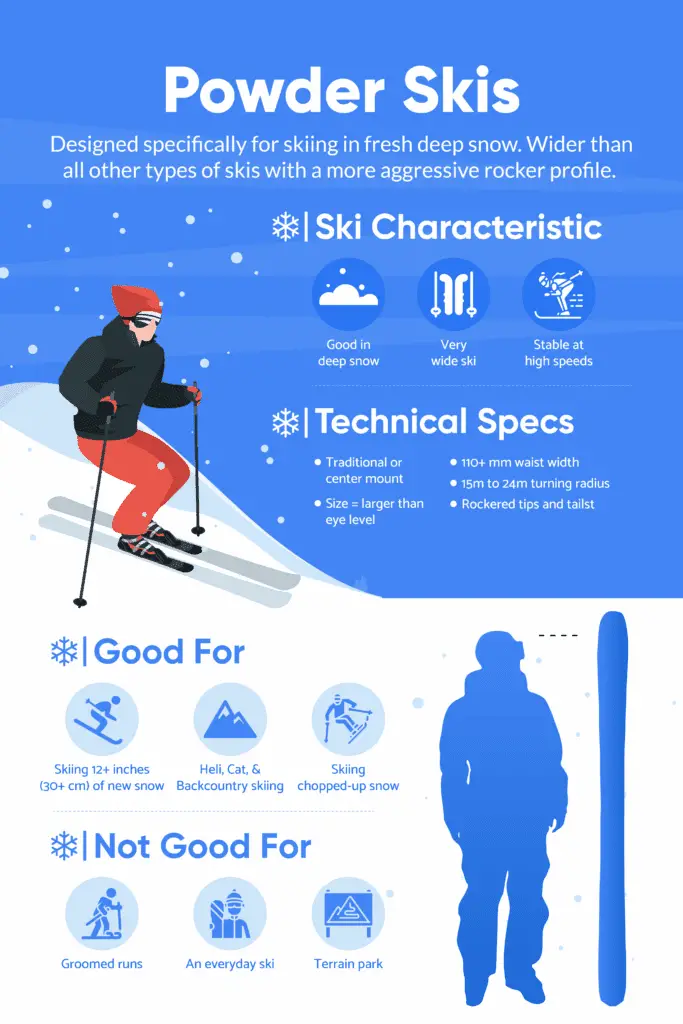 Who are Powder Skis Best For? 
As the name implies, powder skis are great for anyone who is going to ski fresh snow. They work best in 12+ inches (30+ cm) of brand new snow. 
Beginners
While they might seem intimidating at first, powder skis are a beginner's friend on deep powder days. The rockered tips of the skis will help you float over the chopped-up snow on groomed runs.
Beginners will like any powder ski wider than 110mm. For length, choose something below eye level. This makes the ski easier to turn. I also recommend getting a lighter powder ski because you don't need the added stability found in heavier skis.
New to powder skiing? Read about how to ski deep snow.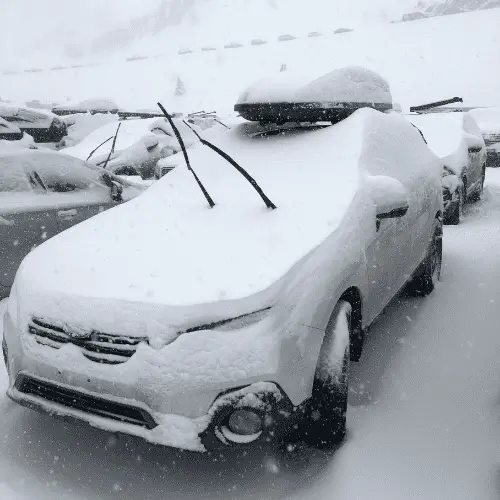 Intermediates
Intermediates should choose a powder ski with a length that is even with their eye level. The longer length will give you more surface area to float in the deeper snow you will find off the ski runs. It will also help you stay more stable at speeds.
Depending on your preference, you choose either a directional ski (ex: Mindbender 115) or a more symmetrical ski (ex: Bent Chetler). Directional skis require good technique and for you to pressure the front of your boots. Symmetrical skis require you to ski with a centered stance.  
Advanced
Advanced skiers should choose a powder ski that is at least at eye level ranging to something taller than them. Get a longer ski if you like skiing fast and jumping off features. It will give you more surface area to land and keep you stable at speeds. If you like skiing at a moderate pace, choose a ski even with your eye level as it will be easier to turn.
Again you can choose between a directional and more symmetrical ski. A directional ski is better at higher speeds, while symmetrical skis are better for skiing backwards. 
What Length Powder Ski Should You Buy?
The best ski length for you depends on various factors, including your ability level and the terrain you are skiing. But as a rule of thumb, your powder skis should be longer than your all-mountain skis, so go with a ski that's at least eye level. If you want to learn your exact ski length, check out this free ski size calculator.
Are Powder Skis Tough to Turn?
In fresh snow, powder skis are easier to turn than any other type of ski. The wide waist width paired with the rocker in the tips and tails lets powder skis float to the top of the snow very easily. 
On groomed ski runs, powder skis are tougher to turn. Since their effective edge is short, you can make skidded turns. But this makes it tougher to carve than other types of skis.
Do Powder Skis Make a Difference?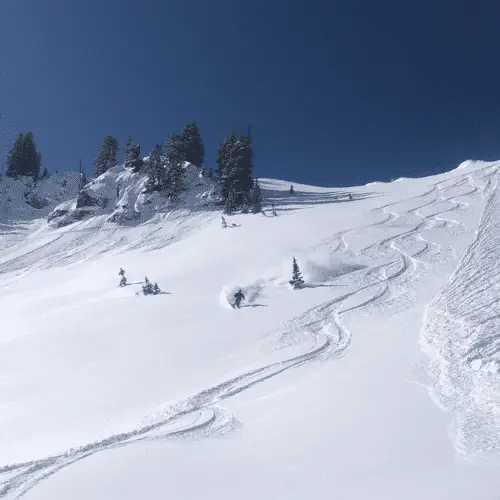 Powder skis make a dramatic difference in fresh snow. They can plane on top of the snow at slower speeds because of their rockered profile and wide waist width. Narrower skis with less rocker need more speed to plane in fresh snow. 
Powder skis also make a difference later in the afternoon when all of the fresh snow is gone, and there are piles of chopped-up snow everywhere. The rockered tips help the ski blast over this chop, making it easier to ski.
What Are Good Powder Skis?
There are numerous good powder skis on the market. However, it's tough to demo them because powder days are not very common. The best way to demo a set of powder skis would be to go on a heli or cat-skiing trip and try different skis on different days. 
(Planning on skiing powder? Read more about why you should have Gore-Tex outerwear.)
That being said, we don't all have access to those amenities. So here are the powder skis I recommend.
I personally ski the previous version of this ski, the old QST 118. I love the QST line's large rockered tips. They help you float and blast over crud. Also, the carbon construction makes this ski super lightweight, which makes it easy to ski and a great option for backcountry skiing.
JSkis, The Friend, is a solid powder charger. My weekly ski partner uses this ski and says they have two personalities. If you ski them with an aggressive stance, the weight of the ski lets you plow through powder at high speeds. You can also ski them boot neutral and drift and float between turns. Jason Levinthal, the owner of JSkis, invented the first twin-tip ski and has been in the industry for years. You can't go wrong with a pair of Js.
If you're looking for a more directional powder ski, the K2 Mindbender 115 is a solid option. Another one of my friends uses these as his powder skis, and he is the most aggressive skier I ride with. These skis can float easily on mellow terrain, but they remain super composed at high speeds letting you straight-line when needed.
The Atomic Bent Chetler is arguably the most popular powder ski in the world. Pro skiers from every discipline turn to it when mother nature turns on the snowblower. They are lightweight and feature a unique boat-hull-shaped tip and tail, making it easy to initiate turns.
How to Take This Knowledge to a Shop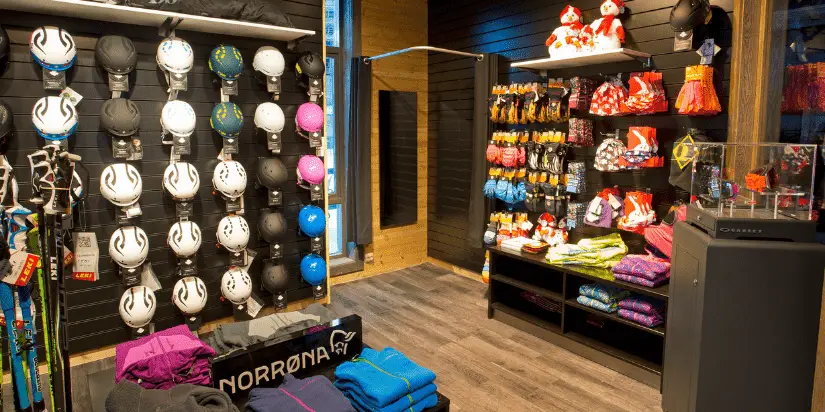 Now let's talk about how to use this knowledge.
If you're looking to buy or rent a pair of skis, here's what I recommend. Reread the section where I recommend ski lengths based on ability. 
Then either head to your local shop or e-commerce store. You can immediately narrow down the skis you're looking for by waist width since powder skis are 110+mm underfoot. Then narrow the selection down by what they have in your size.
Look at the camber/profile and shape of the ski. If you never ski backwards, you don't need much tail rocker, and you can choose a directional ski. If you like to ski switch, get something with a more symmetrical rocker profile. A caveat, you don't have to ski switch to use a symmetrical ski. In fact they are great for all levels of skiers. 
With this knowledge, you'll be able to make a more informed selection. I still recommend talking to employees or chatting support. This will help you learn the nuances between certain pairs of skis. But rest assured that you are more informed than 75% of the people who walk into that store. 
I hope this post clearly explains powder skis. Please reach out if you have any questions or suggestions on what I should add to the article.