Want to learn more about backcountry skis? You've come to the right place. This article dives deep into the world of backcountry skis, and answers frequently asked questions.
Whether you want to buy a new pair of skis or want to nerd out on gear, this blog will answer all of your questions.  
By the end of this article, you'll be able to talk about backcountry skis confidently.
This is one article in my six-part series that explains every category of alpine ski. You can check out the rest of the articles here.
---
Table of Contents
Disclaimer: This page may contain affiliate links.
---
What are Backcountry Skis?
Backcountry skis are alpine skis designed for skiing outside of the ski resort. They are a lightweight version of a downhill ski meant for walking uphill and skiing downhill. 
The lightweight construction makes it easier to walk uphill and access the terrain outside of the ski resort. The shape and camber profile is identical to a pair of downhill skis. Yet there will be subtle changes depending on the ski's specific purpose (i.e., a powder ski, all-mountain ski, etc.).
The dimensions of backcountry skis vary drastically depending on the model. The waist width ranges anywhere from 80mm to 120mm. The turning radius also varies between 15-24m.
(Backcountry skiing is tough, use these ski-specific workouts to get in shape.)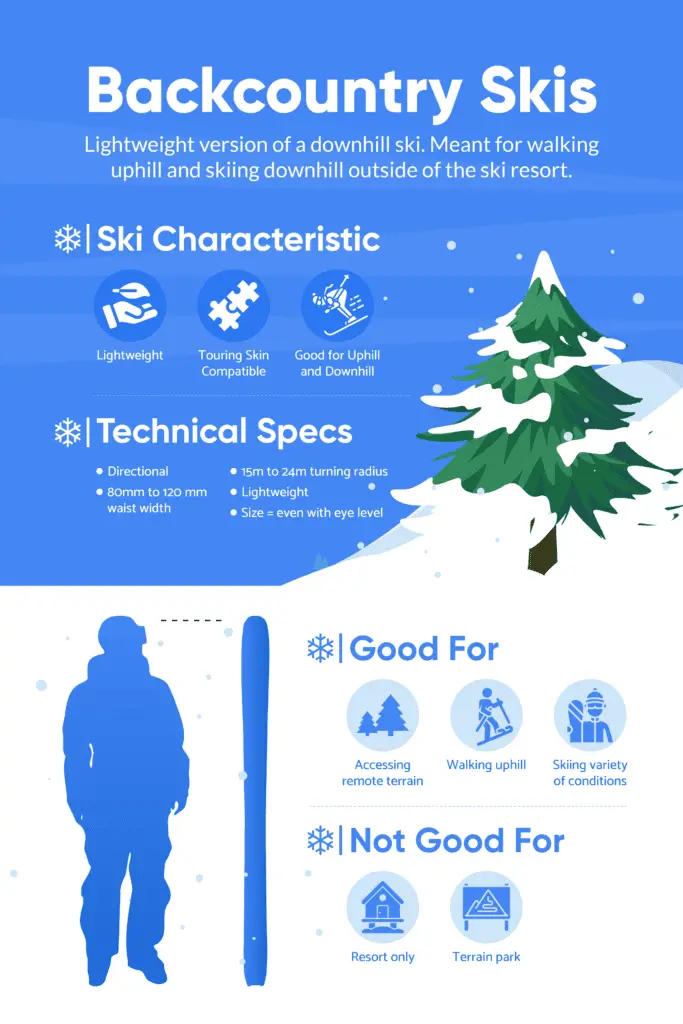 Two Main Characteristics of Backcountry Skis
Two characteristics differentiate backcountry skis from all other types of skis.
Lightweight – Backcountry skis are very light to make walking uphill easier. To achieve this, ski manufacturers use wood, carbon fiber, and fiberglass to make this type of ski. It's uncommon to find any metal in a backcountry ski.
Touring Skin Compatible – To walk uphill in the snow, backcountry skis use touring skins. A piece of nylon material attaches to the bottom of the ski via the tip and tail. This material lets the ski move forward along the snow but does not allow it to go backwards, giving it the ability to walk uphill. You can typically spot a backcountry ski by looking at its tail. The tail will either be flat or have a subtle "u" shape, so the tail clip of a touring skin can easily lock in place.
Who Are Backcountry Skis For?
Backcountry skis are perfect for anyone who wants to ski outside of the ski resort. 
Due to the dangerous nature of backcountry skiing, beginners should first learn their skills within the confines of the resort.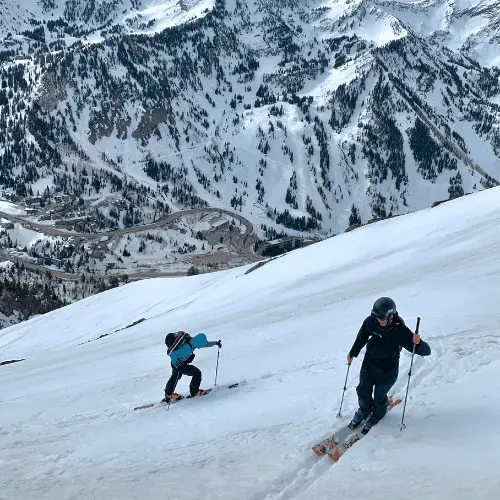 What Size Backcountry Ski Do You Need?
As a rule of thumb, use a backcountry ski that is the same length as your all-mountain ski. Learn what ski length is right for your height here.
If you're newer to backcountry skiing, you can choose a shorter size. You will have to perform kick turns to navigate the backcountry, and a shorter ski will make it easier to kick turn. I still struggle with kick turns.
You can get a longer ski if you plan to only ski on powder days. This extra length will help you float in fresh snow. If this is you, I recommend checking out reverse-cambered skis. These will float even better in fresh snow. 
What's the Difference Between Downhill and Backcountry Skis?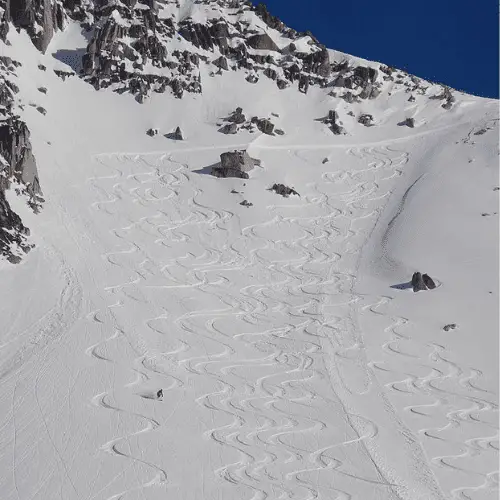 Downhill and backcountry skis use the same shape. The main difference between these two types of skis is the ski's weight. 
Downhill skis are heavier, making them more stable at speeds and mutes inconsistencies in the snow.
Backcountry skis are lighter to make it easier to walk uphill. Since these skis are usually used in untracked snow, they do not need extra weight to mute inconsistencies.
Backcountry vs. All-Mountain Skis
Backcountry skis can have the exact same shape as all-mountain skis. The only difference will be the weight of the ski. The backcountry-specific ski will always be lighter. 
Do You Need Different Skis for Backcountry?
You can use any ski for backcountry touring if you have backcountry-capable bindings.
There's a misconception that you need specific skis for backcountry skiing. This is not true. A backcountry-specific ski will be lighter and make it easier to walk uphill. But you can use any ski you have. If the ski you have is heavier, it will be tougher to walk uphill. 
Can You Use Them in the Ski Resort?
Yes, you can use backcountry skis in the resort. But they will not perform as well as resort-specific skis.
Since backcountry skis are lightweight, they will not offer a smooth ride like heavier in-bounds specific skis. Further, there is also debate whether backcountry ski bindings meet the same safety requirements as downhill bindings.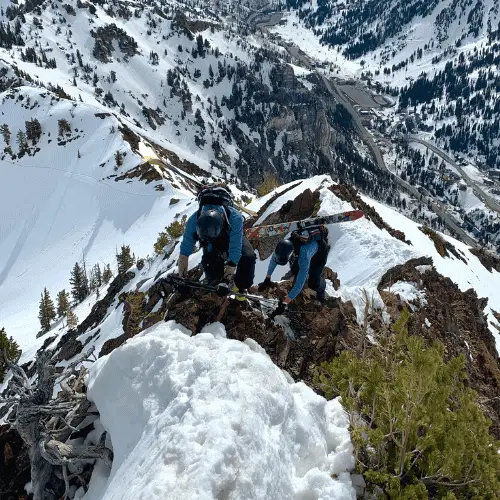 What Are Good Backcountry Skis?
There are a lot of great backcountry skis on the market. I recommend you also try to demo a pair before you buy them. With that being said, here are a couple of backcountry skis I recommend.
The Salomon QST line is an excellent option for touring and resort skiing. I like the 106 because the 106 waist width works well on hard and soft snow. Its carbon construction makes it super lightweight. The best part? If a 106 waist width isn't your speed, the QST line comes in all different sizes ranging from 92mm – 112mm, so there is bound to be a ski for your needs.
Based in Salt Lake City (where I reside), WNDR Alpine makes backcountry-specific skis with algae. The Intention 110 is their everyday ski that works well in all conditions. You can choose either a cambered or a reverse cambered profile, letting you fine-tune your ski's personality.
J Skis is a direct-to-consumer ski brand that makes world-class skis. Their Slacker ski is their backcountry-specific offering. It has a 110mm waist width and comes in a variety of limited edition graphics. I currently backcountry ski on J Skis' Vacation, and I love it. If I had to get another touring ski, it would probably be the Slacker of WNDR's Intention.
The Corvus Freebird is Black Crows' 107mm directional touring ski. It is lightweight and has plenty of rocker in the tip to keep you on top of the snow. If you want something a little narrower, I recommend going with the Navis or the Orb. But once you see the Corvus's pink top sheet in person, you're sure to fall in love.
How to Take This Knowledge to a Shop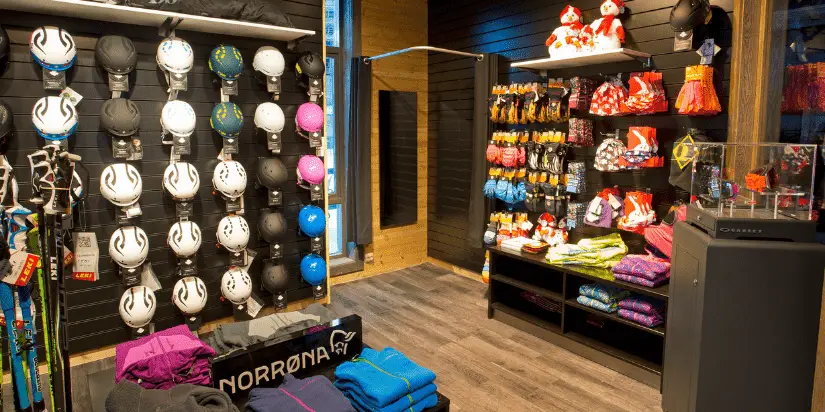 Now let's talk about how to use this knowledge.
If you're looking to buy or rent a pair of skis, here's what I recommend. Use this size calculator to get your ski size.
Then either head to your local shop or e-commerce store. You can immediately narrow down the skis you're looking for by looking in the backcountry category for skis in your size.
Now think about what type of skiing you like to do. If you like to ski powder, look at something 110+ mm wide. If you want an all arounder, look at skis 95-110mm wide. If you want to go uphill fast, get something less than 95mm wide. 
Now, look at the camber profile and shape of the ski. Skis with more camber will work better on hard snow. Skis with more rocker will be better in soft snow. If you want a versatile ski, get something with camber and rocker.
With this knowledge, you'll be able to make an informed selection. I still recommend talking to employees or chatting support. This will help you learn the nuances between certain pairs of skis. But rest assured that you are more informed than 75% of the people who walk into that store. 
I hope this post clearly explains backcountry skis. Please reach out if you have any questions or suggestions on what I should add to the article.