Interested in learning more about all-mountain skis? You've come to the right place. In this blog, I dive deep into all-mountain skis and highlight their defining characteristics.
This blog aims to cover everything you need to know about all-mountain skis.
Whether you're choosing a new pair of skis, deciding on what type of ski you should rent for your trip, or if you just want to nerd out on skis stats, you're in the right place.  
By the end of this article, you'll be able to confidently chat all-mountain skis with the shop employee and the stranger on the lift.
This is one article in my six-part series that explains every category of alpine ski. You can check out the rest of the articles here.
---
Table of Contents
Disclaimer: This page may contain affiliate links.
---
What is an All-Mountain Ski?
All-mountain skis are directional skis designed to work in a wide range of snow conditions. They specifically excel on groomed ski runs (on-piste), but also work off-piste in moguls and powder. The name "all-mountain" stems from how the ski works well all around the ski mountain. 
The dimensions of an all-mountain ski vary between specific models. But generally, they have a narrow waist width between 85mm and 105mm, slightly larger tips, small tails, and a turning radius between 15m and 22m.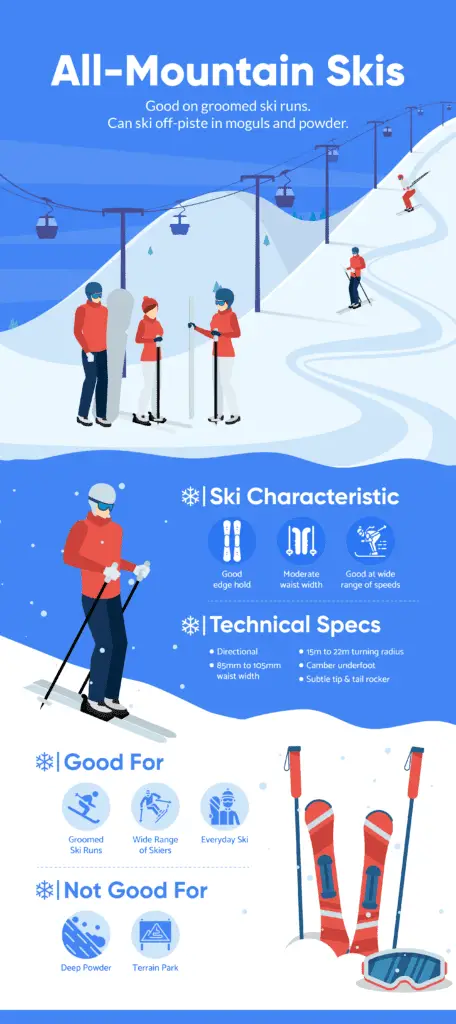 There are three characteristics that define an all-mountain ski.
Good Edge Hold – All-mountain skis have good edge hold and perform great on hard snow. This is possible because all-mountain skis have a long effective edge. This means that more of the metal edge on the side of the ski contacts the snow. This helps you carve and turn on hard-packed snow.
Moderate Waist Width – All-mountain skis have a moderate waist width ranging anywhere from 85mm – 105mm underfoot. This is part of the reason why this type of ski is so versatile. Waist width controls both how quickly a ski can transition from edge to edge and how it performs in fresh snow. Since all-mountain skis have a moderate waist width, they can turn quickly from edge to edge and float moderately well in fresh snow. While they don't turn as quickly as narrow race skis or float as well as powder skis, their moderate width makes them a great all-arounder. 
Good at a Wide Range of Speeds – All-mountain skis are good at a wide range of speeds. They can go slow and make short pivot turns or go full throttle and make long arced turns at speed. Specific models will work best at different speeds.
Who are All-Mountain Skis Best For?
All-mountain skis are the perfect everyday ski for a wide range of skiers. 
Beginners
Beginners will love a narrower (85mm – 95mm) and softer all-mountain ski. The narrow waist makes the ski easier to turn. The soft flex pattern will help you engage turns with minimal effort and won't punish you if you end up in the back seat. For size, go with a length between chin and eye level. 
Intermediates
Intermediate skiers will like a moderately wide (90mm – 105mm) all-mountain ski with a moderate flex. As you start exploring off the groomed runs (off-piste), the width of the ski will help you float on top of the ungroomed snow. The moderate flex pattern will give you a lot of energy between turns and more stability at speeds. Yet, it won't punish you if your form slips from time to time. For size, choose a length even with your nose or eye level.
(Want to know what ski length is right for you? Check out this free ski size calculator.)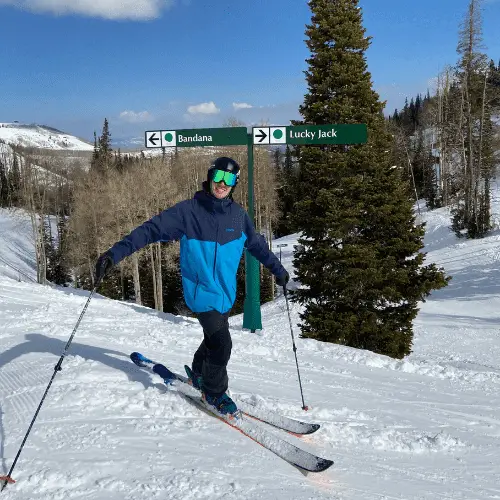 Advanced Skiers
Advanced skiers should choose a waist width and a flex depending on their preference. The beauty of all-mountain skis is that you can choose a ski that fits your personal preferences within the category. If you love skiing groomers, choose a ski with a narrower waist width. If you like skiing off-piste, choose something wider. 
If you want to go fast, get a stiff ski, as it's stable at speeds and mutes out the inconsistencies in the snow. If you ski at a moderate pace, a softer flex will be easier to turn. 
Length also depends on your preferences. Go shorter if you like to make quick turns and ski at a slower speed. Get a longer ski if you like to go fast and make big turns.
Freestyle Skiers
Freestyle skiers will also love all-mountain skis. I recommend choosing a pair with a moderate waist width. Then if you like to ski fast, get something stiffer. If you like to go a little slower and jib around the mountain, get something with more flex.
What Length Should You Choose?
For an all-mountain ski, choose a length that is even or below your eye level. This type of ski has a lot of effective edge, which means that most of the ski will touch the snow, and it will feel true to its length. Therefore, it's important to get the right size. Use this free calculator to learn what ski length you need. 
All-Mountain Skis vs. Powder Skis
The waist width is the most noticeable difference between all-mountain skis and powder skis. 
All-mountain skis have waist widths between 85mm and 105mm. The waist width of powder skis is 110+mm. Powder skis are designed for skiing very deep fresh snow. They excel when there is 12+ inches (30+ cms) of brand new snow.
Powder skis also have more rocker and less camber than all-mountain skis. Some powder skis have no camber underfoot at all. This is referred to as reverse camber or a flat camber profile.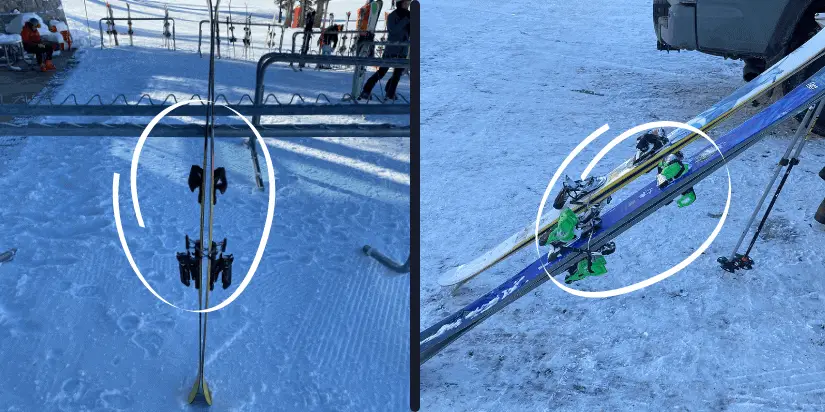 All-Mountain Skis vs. Freeride Skis
The main difference between all-mountain skis and freeride skis is the camber profile. 
All-mountain skis are designed for the ski resort. Thus, they have more camber underfoot, with some subtle rocker. The camber helps the ski hold an edge on groomed runs, and the rocker helps them float in the occasional fresh snow. 
Freeride skis are designed specifically for skiing off-piste and in the backcountry. They have less camber underfoot but have more rocker in the tips and tails of the ski so they can float in the ungroomed snow. 
You can use wider all-mountain skis (105mm+ waist width) for freeride skiing. However, they may not have as much tip rocker, and the directional shape won't be as good for skiing backward (switch). 
All-Mountain Skis vs. On-Piste Skis
On-piste skis are a type of all-mountain ski. Also called frontside or carving skis, on-piste skis have a very narrow waist width ranging from less than 80mm up to around 95mm. 
On-piste skis are fully cambered underfoot with minimal rocker. They are specifically designed for going fast and carving turns on groomed snow. They are not as versatile as other all-mountain skis and do not work well off-piste. 
What Are Good All-Mountain Skis?
There are many good all-mountain skis on the market today. I recommend that you demo as many pairs as you can before you make a purchase. This will help you get a feeling for what you like. That being said, here are four of my favorite all-mountain skis.
The Black Ops Escaper is the quintessential all-mountain ski. It has a 94mm waist width in the 178cm size and features camber underfoot and rocker in the tip. You can read all the specifics on the product page. I recommend it because the ski is based on Rossignol's old award-winning Soul 7 line. Meaning that this ski is tried and true.
Women's Blizzard Black Pearl 82
The Black Pearl 82 will hold an amazing edge on hard-packed snow. But its carbon core, and rockered tips help give it stability off-piste. I recommend this ski because my girlfriend skis on the wider version and loves its performance in all conditions.
The Blizzard Rustler 10 is the perfect all-mountain ski if you want to ski aggressively. It has metal underfoot and a healthy tip and tail rocker. All this gives you a stable ski that will hold an edge well and won't shy away from groomers or fresh snow.
If you want an all-mountain freestyle ski, look no further. The K2 Reckoner is a full twin-tip that is at home on the groomers, in the park, skiing switch off side hits, and anywhere in between. I ski the Faction Prodigy 3.0 that has very similar dimensions, and I love its versatility. 
How to Take This Knowledge to the Ski Shop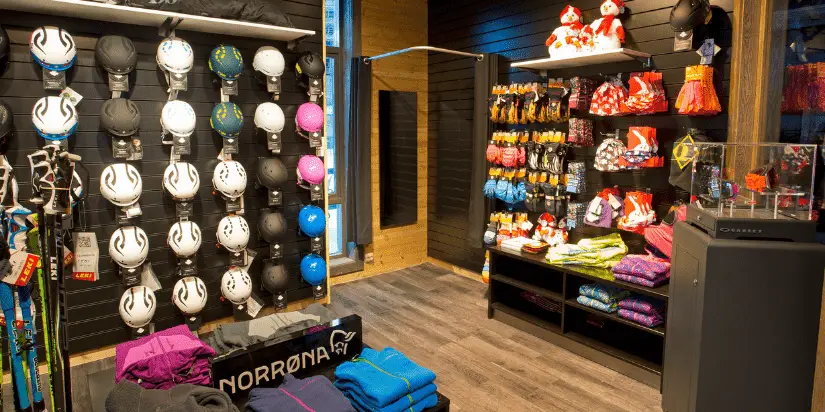 Now it's time to put this knowledge to use.
If you're looking to buy or rent a pair of skis, here's what I recommend. Reread the section where I recommend ski dimensions based on ability. Then think about where you're going to ski and what type of terrain you like to ski.
Then either head to your local shop or e-commerce store. You can immediately narrow down the skis you're looking for by waist width. Then you narrow the selection down by what they have in your size.
Look for the construction, as this denotes the stiffness of the ski. As a rule of thumb, pure wooden skis are softer than a ski with metal, fiberglass, or carbon in it.
With this knowledge, you'll be able to make a more informed selection. I still recommend talking to employees or chatting support. This will help you learn the nuances between certain pairs of skis. But rest assured that you are more informed than 75% of the people who walk into that store. 
I hope this post clearly explains all-mountain skis. Please reach out if you have any questions or suggestions on what I should add to the article.