Unsure about what to wear underneath your ski pants? This article will help you make the right choice.
---
Table of Contents
Disclaimer: This page may contain affiliate links.
---
What to Wear Under Ski Pants
You should wear a base layer bottom underneath your ski pants. Base layers wick away your sweat, keeping you dry, and provide extra insulation to keep you warm.
But what is a base layer bottom?
Base Layer Bottoms
Base layers bottoms are a type of long underwear. They are the bottom layer of your ski clothing, the one closest to your skin.
They serve two purposes: 
They wick away your sweat to keep you dry and provide a layer of insulation to keep you warm. Base layers come in both tops and bottoms. 
But in this article, I'm only going to cover base layer bottoms.
Types of Base Layer Bottoms
If you've ever looked at base layers before, you know there are a ton of options. 
All these options are great! It means that there is a base layer for every type of condition.
But it also makes it tough to pick the right base layer:
There are three things you need to keep in mind when looking for a base layer bottom.
Material
First is material, aka the fabric of the base layer.
Synthetic – Synthetic base layers made out of polyester are the most common. They are great at wicking sweat and are moderately warm. They do get smelly, so you need to wash them. They are a great option.
Wool – Wool base layers are merino wool. This material is marginal at wicking sweat but great for keeping you warm. Merino wool has natural odor-fighting properties, so they hardly ever smell. I strongly recommend them.
Synthetic Wool Blend – Consider this the cream of the crop. These base layers wick moisture like synthetic layers and insulate like wool layers. This is my first choice.
Cotton – I do not recommend wearing cotton base layers. Cotton does not wick moisture well and does not provide good insulation. Steer clear of it.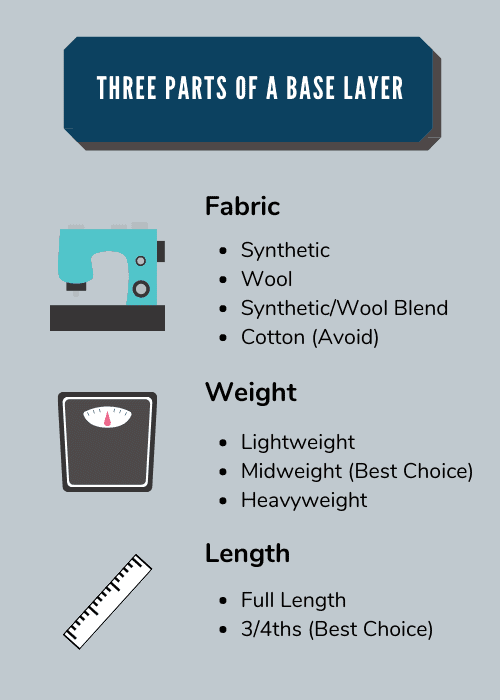 (Editor's Note: I wear Patagonia's Capilene polyester/wool as my base layer when I'm freeriding and backcountry skiing. I highly recommend them ?)
Weight
Next is the weight of the base layer, aka how warm it is.
There are three base layer weights: 
Lightweight
Midweight
Heavyweight
As the thickness increases, so does the warmth. For the everyday skier, I recommend a midweight baselayer. Like this one from Backcountry.
It's not too thick for those hot days, but it's not too thin for the cold days. Its porridge is just right.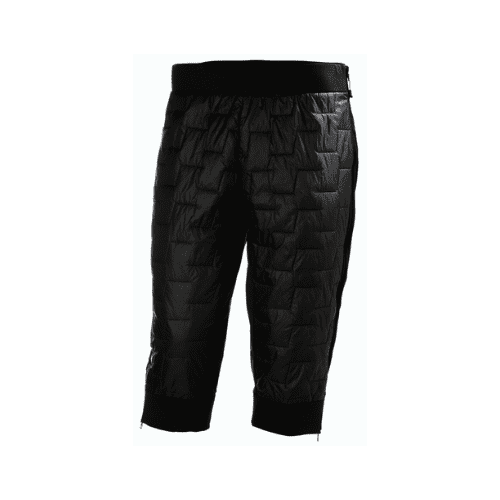 Length
Finally, there is the length.
There are two lengths of base layers, full length, and 3/4ths length. Always choose the 3/4th length if you can find them. This way, you don't have to roll your base layers up to avoid putting them in your boots.
Only have full-length base layers? Don't worry, here's what you do:
Cuff them like you would jeans until they are at calf level. Remember never to put anything other than your sock in your ski boot.
Do You Have to Wear Base Layers Under Ski Pants?
No, you don't have to wear base layers under your ski pants, but they are the best option. Since they wick moisture, they are better than any other alternatives.
You can wear normal underwear or leggings under your ski pants in a pinch. 
I would only wear normal underwear on an extremely warm day. 
Leggings work for a day if you're new to skiing and there isn't a better option. But since they are thick, you will get warm really fast. Just make sure not to put them into your ski or snowboard boots.
What to Wear Under Shell Ski Pants
Wear a midweight base layer made of synthetic, wool, or wool-synthetic fabric. If it's freezing, consider a heavyweight base layer under your shell pants or bibs.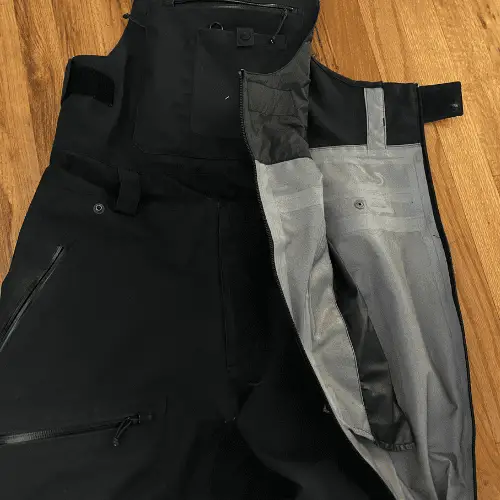 What to Wear Under Insulated Ski Pants
Underneath insulated ski pants, wear a lightweight or a midweight base layer. Make sure the material is either synthetic, wool, or a wool-synthetic blend. 
Since the ski pants already have insulation, the base layer's purpose is to wick away your sweat and keep you dry. Thus there is no need for a heavyweight layer.
Extra Insulation
But what if a base layer doesn't cut it? Are there other options?
You can add insulated shorts or 3/4th pants between your base layer and ski pants when it's violently cold. 
Insulated shorts are either filled with down or Primaloft insulation. They are great if you're going to be out in the cold all day. 
Yet, I don't think they're necessary for your average day at the ski resort.
Summary
In conclusion, the only thing you should wear under your ski pants is a base layer bottom. With so many options to choose from, there is sure to be a base layer for your needs. If you have any specific questions, feel free to reach out!