What is off-piste skiing? Moreover, what is a ski piste? If you want to know the answers to these questions, you're in the right place.
---
Table of Contents:
Disclaimer: This page may contain affiliate links.
---
What is Off-Piste Skiing?
"Piste" is the French word for a ski run, and "off" means away from the place in question. Therefore, "off-piste skiing" refers to any skiing that takes place off of a groomed ski run.
Off-Piste vs On-Piste
Ski resorts have designated runs. You can find these runs on the resort's trail map. They start at the top of the chairlift and go all the way down to the base of the ski resort. These ski runs are the best routes down the mountain designated by the ski resort's management.
Skiing on-piste refers to only skiing on the designated runs. 
In contrast, off-piste skiing refers to skiing outside of these runs. This often takes place in the areas between the ski runs, the side country, and the backcountry. 
(Love skiing? Stay in ski-season shape with these skiing workouts.)
Off-Piste Skiing vs. Backcountry Skiing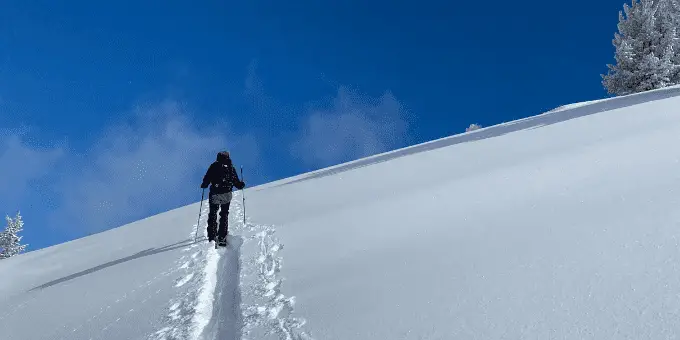 By definition, off-piste skiing and backcountry skiing are the same thing.
But, it's tricky to compare off-piste skiing and backcountry skiing. This is because of how ski resorts in Europe and North America operate differently.
The Difference Between Off-Piste Skiing in Europe and North America
The main difference between off-piste skiing in Europe and North America is the location of the terrain. 
In Europe, an off-piste run might be right next to a groomed piste and funnel you into another piste. While in North America, off-piste terrain is only found on the outer boundaries of a ski resort, only accessible through an out-of-bounds gate.
If you want to dig deeper into the differences of resort culture, check out this comparative analysis video by pro-skier Nikolai Schirmer.
Off-Piste Skiing in Europe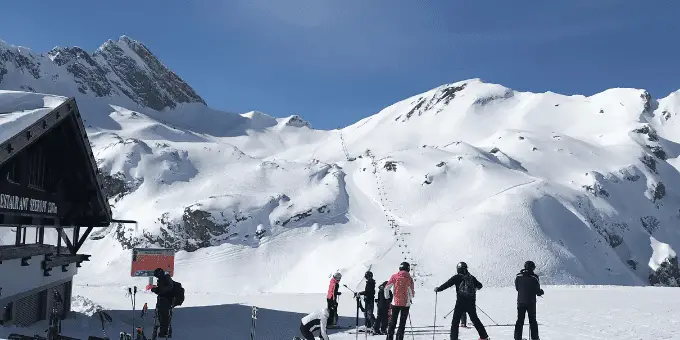 In Europe, the ski resorts have defined runs that go from the top to the bottom of the mountain. Technically, these runs are the only portion of the mountain that the European resorts operate. 
Thus, in Europe, when you ski off-piste, you are entering backcountry terrain. You are then responsible for your own well-being. This includes your own self-rescue if you get hurt, avoiding avalanche terrain, and watching for unmarked obstacles. 
But there is a gray area here. In Europe, there are often gaps in between ski runs and sections of off-piste skiing that run underneath the chairlift and right down to the village. With this terrain being so accessible, is it considered off-piste and use at your own risk?
To err on the safe side, treat everything outside of the ski run as backcountry terrain when you're in Europe. Understand the avalanche conditions and come prepared. I would also ask the resort about their off-piste policy and any specific terrain in question.
Best Off-Piste Skiing in Europe
In Europe, there are many fantastic places for lift-accessed off-piste skiing.
Verbier – Located in the Swiss Alps, Verbier is known for its exceptional off-piste skiing. It is home to many freeride skiers. 
St. Anton – Located in Austria, St. Anton and the neighboring valley of Lech has great access to off-piste skiing straight from the resort.
Chamonix – Undoubtedly, the best place for off-piste skiing in Europe is Chamonix. To truly test your abilities, take the cable car up to the  Aiguille du Midi and ski one of the near-vertical runs.
Off-Piste Skiing in North America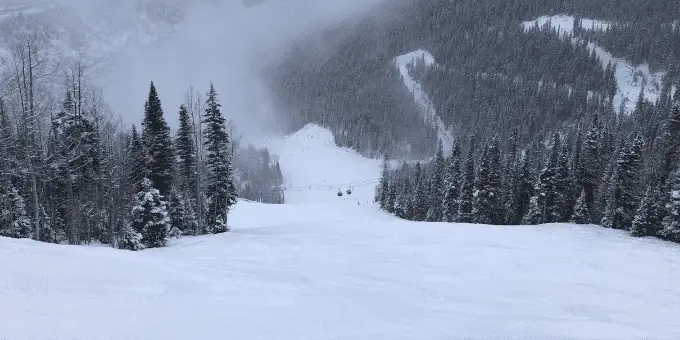 In North America, off-piste skiing is very different.
North American ski resorts operate on all of the mountain within the resort's boundaries. Thus any terrain without a rope in front of it is open to skiing. Further, ski patrol maintains everything within the resort. They will bomb for avalanches and come rescue you if you get hurt.
At a North American ski resort, it's obvious when you're entering the backcountry or off-piste terrain. A gate, sign, or fence, will mark the start of out-of-bounds terrain. Once you pass this point, you are now responsible for your well-being.
However, unlike in Europe, it is very obvious when you are leaving the confines of the resorts. Further, these gates are usually found only on the ski resort's boundary line.
Best Off-Piste Skiing in North America
In North America, the best off-piste skiing is in the USA and Canada.
Jackson Hole – Located in Wyoming, Jackson Hole has fantastic side-country access. You can traverse or boot pack out its gate and access amazing fall-line skiing. 
Whistler Blackcomb – The largest mountain in North America gets even bigger when you consider its backcountry access. Take the chair to the top of the Blackcomb glacier, and you have a world of possibilities.
Alpental – Located in the PNW, Alpental is one of the only resorts in the USA that advertises its lift-accessed backcountry. Once you get a backcountry pass, Alpental opens up its 523 acres of off-piste skiing to you.
What Gear Do You Need for Off-Piste Skiing?
Off-piste skiing requires off-piste skis, avalanche safety gear, and other freeride equipment.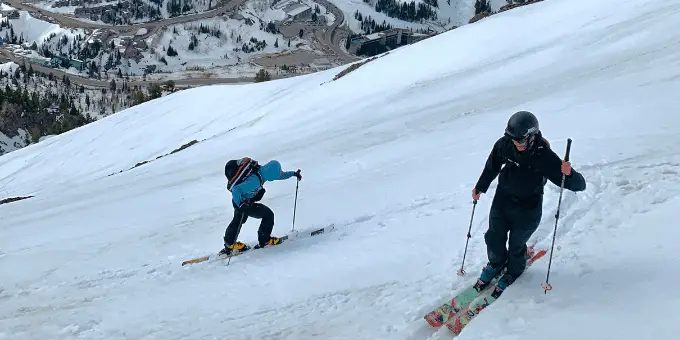 The Best Off-Piste Skis:
You can use both all-mountain and freeride skis for off-piste skiing. It depends on how aggressively you like to ski and how deep the snow is. Here are my recommendations.
Mindbender 108 TI – At 108mm wide, it's the perfect waist width for both on and off-piste. The titanal underfoot gives it a smooth ride and the ability to go really fast. But it's also not some super burly charger. K2 has made this ski accessible for skiers of all ability levels.
Black Crows Anima – A regular on the Freeride World Tour, the Anima is a great option for a wide freeride ski that can float in powder but hold its own on hardpack and in chop.
Rossignol Black Ops Escaper – This is the quintessential one-ski quiver. It has a 94mm waist width in the 178cm size and features camber underfoot and rocker in the tip. I recommend it because the ski is based on Rossignol's old award-winning Soul 7 line, which means that this ski is tried and true.
Blizzard Rustler 10  – This ski is perfect if you ski aggressively. It has metal underfoot and a healthy tip and tail rocker. All this gives you a stable ski that will hold an edge well and won't shy away from groomers or fresh snow.
Avalanche Safety Gear:
Since you are entering terrain that is not maintained by ski patrol, you need to bring your own safety gear. This includes:
Avalanche beacon
Probe
Shovel
Backpack
First-aid
Snacks and water
Freeride Equipment:
The freeride equipment you'll need depends on where you'll be skiing.
Helmet
Waterproof clothing
Insulation (Learn how to layer better for skiing.)
Moisture-wicking base layer
If you need to travel uphill
Summary
I hope this answers any questions you have about off-piste skiing. As a note to end on, treat all off-piste terrain as backcountry terrain. Ensure your personal safety, and feel free to talk to the employees at the mountain about their off-piste policy. Lastly, when in doubt, hire a local guide to show you around.