Looking to make sure your ski boots fit correctly? This article will tell you everything you need to know.
Ski boots are an integral part of skiing. They are the medium that connects your body and your skis.
But chances are you've probably had some painful experiences with ski boots, whether it was that trip where the boots you rented weren't the right size or the time when you ordered those boots online that just didn't gel with your feet.
We've all been there. I know I have.
So today, I'm going to cover how ski boots should fit. So hopefully, you and your feet have better days on the slopes.
---
Table of Contents:
Disclaimer: This page may contain affiliate links.
---
How to Size Ski Boots
To get the right size ski boot, you need to know two measurements. Your foot size and your last.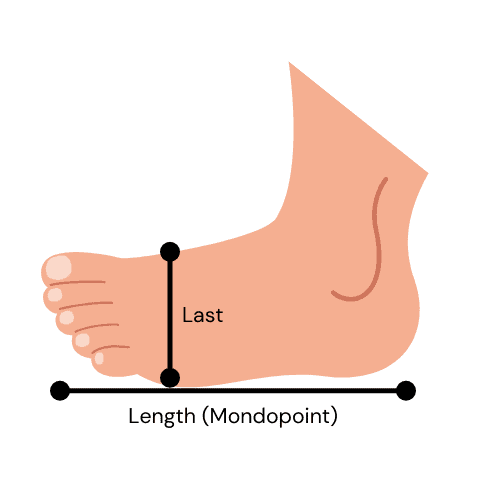 Foot Size
Similar to shoe sizing, ski boots use the length of your foot to determine the proper size. But in contrast to shoes, ski boots use mondopoint sizing, which is the length of your foot in millimeters.
Thankfully, there are ski boot size charts that convert shoe sizes to mondopoint sizing. If you're buying a ski boot in the shop, the boot fitter will measure your foot. 
But you're buying a pair of boots online, here is a size chart to help you find the right size. It's important to be honest with yourself about your shoe size here. You don't want ski boots that are too big.
US Mens
5
5.5
6
6.5
7
7.5
8
8.5
9
9.5
10
10.5
11
11.5
12
12.5
13
13.5
14
US Womens
6
6.5
7
7.5
8
8.5
9
9.5
10
10.5
11
11.5
12
12.5
13
13.5
14
14.5
15
Ski Boot Size
23
23.5
24
24.5
25
25.5
26
26.5
27
27.5
28
28.5
29
29.5
30
30.5
31
31.5
32
Ski Boot Last
The last is the width of your ski boot, measured in millimeters. It is arguably just as important as the length. The last is what keeps your foot secure and prevents it from moving side to side.
Everyone's foot is different and therefore has its own unique last. So before you buy a ski boot, you need to measure your last. A boot fitter will measure it before recommending a boot. If you are sizing yourself, measure the width of your forefoot in millimeters. 
Lasts range from 97 mm to 106 mm. I have a very narrow foot, so I wear the Lange XT3 Pro 140 Low Volume.
Thankfully ski boot brands offer a variety of lasts, so there is bound to be a boot that fits you.
How Should Ski Boots Fit?
Ski boots should be snug, but they should not be painful. When your boot is fully buckled and you're standing up straight, your toes should press up against the end of your boot. When you flex forward and lean into the front of the boot, your toes should pull back a tiny bit and create some space. 
Your ski boot's liner should fit nice and snug. You should not see any large visible gaps between your shin or calve.
Are Ski Boots Supposed to Be Tight?
Yes, your ski boots should be tight. But they should not be so tight that you cannot wear them for multiple hours on end.
You want a tight boot because it gives you more control of the ski. If your foot wiggles around in your ski boot you, will have less control of your ski. The extra play in a loose boot will increase the effort needed to turn the ski.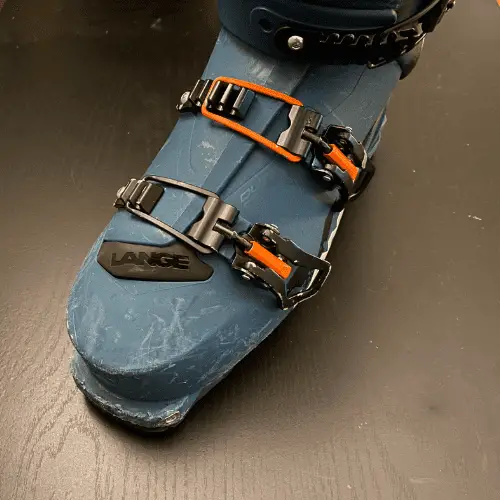 Will Ski Boots Loosen Up?
Ski boots will eventually loosen up. What happens is the ski boot liner packs out. Over time as you wear the boot, the foam in the liner gets compressed and reduces the liner's total volume.
If you ski a lot, 60+ days a year, a boot fitter will often put you in a smaller boot because you will quickly pack out the liner.
If you're a casual skier, it will take multiple years to pack out your liner fully.
But what do you do when your liner packs out? You can either swap out your liner for a new one. Or you can install an insole shim under your liner. This shim will take up the extra room and make your boot snug again.
Why Do Ski Boots Hurt?
Ski boots should be tight, but they should not hurt. Ski boots can hurt because they are not the right size, buckled too tight, or there are too many layers in the boot.
Common Reasons Why Ski Boots Hurt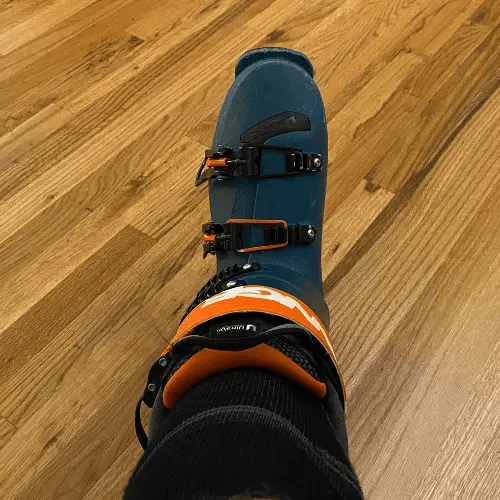 Not the Right Size
If you've had a poor experience with ski bootsm it might be because they were not the right size. Oftentimes rental shops have a limited number of sizes and may give out boots that aren't the perfect size.
Buckled too Tight
Another common mistake is buckling your ski boots too tight. The bottom two buckles that run over the top of your foot should barely be buckled. Your foot has a lot of veins that run along the top of your foot. If you buckle your boot too tight, it will cut off circulation to these veins causing your foot to go numb. If your boot is the proper last, just barely close your bottom two buckles.
Too Many Socks or Base Layers in The Boot
During my time as a ski instructor, it was common to find people wearing multiple pairs of socks. They were afraid of getting cold and wanted to layer up. But an hour into the day, these people would complain their feet hurt. 
Only wear one pair of socks in your ski boots. This will ensure the boot fits properly. Further, do not tuck your base layer into your ski boots. Roll them up and keep them out of ski boots. You can also get ¾ length base layers designed specifically for skiing.