Interested in learning more about race skis? You've come to the right place. In this blog, I dive deep into race skis and highlight what makes them unique.
Whether you're choosing a new pair of skis, deciding on what type of ski you should rent for your trip, or just want to nerd out on skis stats, you're in the right place.  
By the end of this article, you'll be able to confidently chat race skis with the shop employee and the stranger on the lift.
This is one article in my six-part series that explains every category of alpine ski. You can check out the rest of the articles here.
---
Table of Contents:
---
What is a Race Ski?
Race skis are alpine skis designed specifically for Downhill, Super G, Giant Slalom, and Slalom ski racing.
Race skis are stiff and fully cambered underfoot. The stiffness makes them stable at the high speeds generated during ski racing. The camber underfoot helps the ski hold an edge and carve on the groomed hard snow in the racecourse.
 Specific dimensions of race skis vary between models. They are directional skis with a waist width between 60mm and 80mm. Their turning radius can be as short as 10m and as long as 50m. It is common for race skis to have metal underfoot.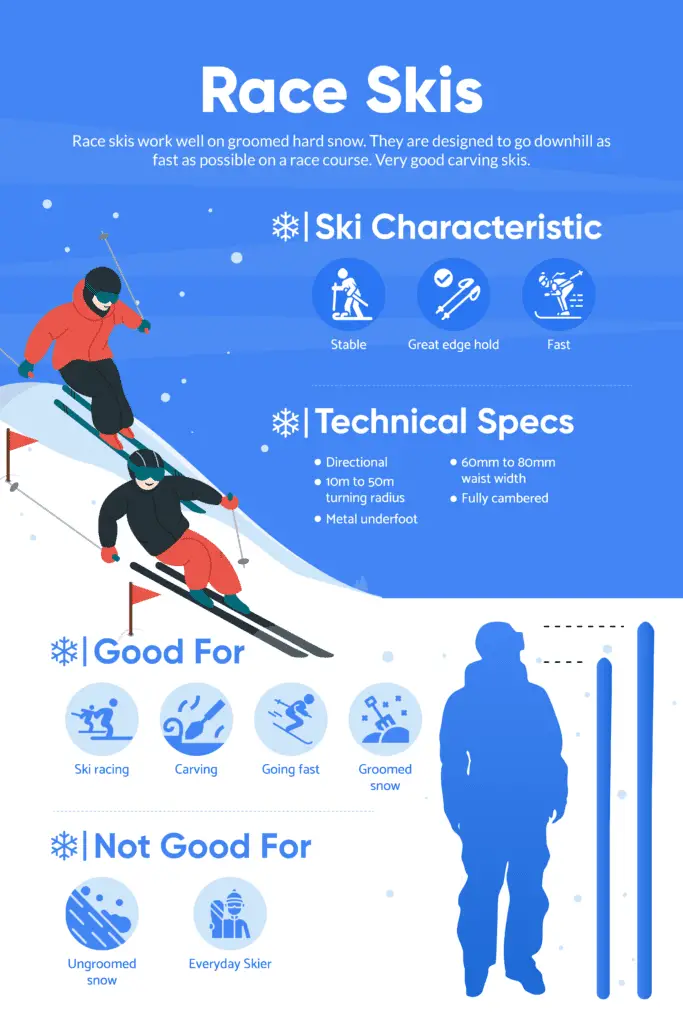 What Makes a Race Ski Different from Other Skis?
Compared to other types of skis, race skis are meant to ski fast and aggressively. They are narrower, stiffer, and longer than all other types of skis. They only work well on hard, groomed snow. 
Race skis require a high level of skill to use. They are not forgiving and comfortable. They are a performance tool. If your form is sloppy, these skis will punish you and are difficult to ski. 
But in the hands of an expert, these skis can carve hard and go faster than any other type of alpine ski.
What Are Race Skis Made Out Of?
Race skis are made out of wood and metal.
The specific amount of wood and metal depends on the type of ski. As a rule of thumb, the more aggressive the ski, the more metal it has underfoot. 
Aggressive skis like the Redster SG FIS have multiple metal sheets to withstand the high speed and rigors of Super-G (super giant slalom).
---
(Skiing is tough. Here are the best workouts to get you in shape for skiing.)
---
What Size Race Ski Do You Need?
Traditional skis use the skier's height to determine the right ski length. Race skis, however, use weight to choose the ski size. 
Skier Weight (lbs)
80 – 90
90 – 100
100 – 110
110 – 120
120 – 130
130 – 140
140-150
150+
Slalom Ski Length (cm)
130 – 140
135 – 145
140 – 150
145 – 155
150 – 160
150 – 160
155 – 165
155 – 165
Giant Slalom Ski Length
140 – 150
145 – 155
150 – 165
160 – 175
170 – 180
175 – 185
180+
180+
Further, FIS rules (International Ski Federation) also determine what sizes are allowed at races. 
Casual skier? Learn what ski length is right for you with this free calculator.
Race Skis vs. All Mountain Skis
Race skis and all-mountain skis are dramatically different. 
Race skis are narrower and stiffer. With full camber underfoot, they require great form and are only responsive at high speeds. They are most at home on firm groomed snow.
All-mountain skis are friendlier. They are wider, less stiff, and have less camber. The wider waist width and rockered tips help them float in fresh snow. While some all-mountain skis are made with metal, they are nowhere near as stiff as a race ski. As the name suggests, they are at home all over the mountain.
Race skis are like an F-1 car, designed only to go fast on the track. All-mountain skis are like a sporty sedan. Yes, it can go fast, but it can also take the family to a movie. 
Are Race Skis Good in Powder?
Race skis are not good in powder. Their narrow waist width paired with their full-length camber does not float well in fresh snow.
All-mountain, freeride, and powder skis are far better choices for skiing powder. Think of it this way. The wider the ski is and the more rocker it has in the tips and tails, the better it will ski powder. Race skis fall on the narrow end of this spectrum, while powder skis are on the wider side.
Race Ski Recommendations
This slalom ski was born to win races. Mikaela Schiffrin has already piloted many Atomic Redsters to victory. Featuring a wood core with a TI laminate, this ski is ready to run through some gates.
HEAD Worldcup Rebels FIS GS Skis
This FIS-approved ski is ready to lay some trenches on the Giant Slalom course. It comes in three different sizes, making it easy to get the right ski for your discipline.
Volkl Race Tigers WC FIS SL Skis
The Volkl Race Tigers are ready to throw down at your local slalom and take you all the way to a FIS race. With three layers of titanium, these skis will dampen out any vibrations and offer you great energy edge-to-edge.
How to Take This Knowledge to the Shop?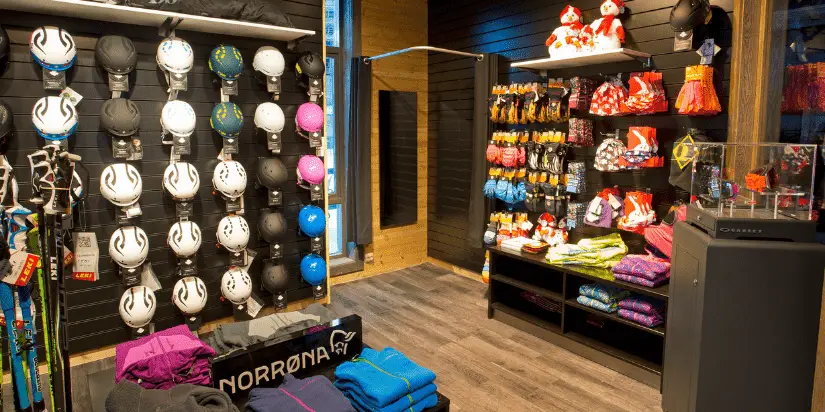 Alright, now it's time to take this knowledge to the shop. I recommend going to a ski race shop in person to select the right skis for your discipline and weight.
However, if you want to shop online, here's how to do it.
First, figure out what discipline you are racing. Are you doing slalom, giant slalom, or super-g? Next check to see if you need FIS-approved skis or not. 
Then head to the weight size chart and look for your ski length.
Then with that in mind, head to an online store and start pursuing. Remember to keep your discipline, whether you need a FIS-approved ski, and size in mind.
I hope this post clearly explains race skis. Please reach out if you have any questions or suggestions on what I should add to the article.