Want to learn more about freeride skis? You've come to the right place. In this blog, I explain freeride skis and answer frequently asked questions.
Whether you want to buy a new pair of skis or you're deciding what type of ski you should rent for your trip, this blog will answer all of your questions.  
By the end of this article, you'll fully understand freeride skis and be ready to ski aggressively anywhere on the mountain. 
This is one article in my six-part series that explains every category of alpine ski. You can check out the rest of the articles here.
---
Table of Contents:
Disclaimer: This page may contain affiliate links.
---
What is a Freeride Ski?
Freeride skis are a type of ski that works in all types of terrain, but excels in ungroomed (off-piste) terrain. They're designed to ski aggressively, hit jumps, and adapt to any conditions. Freeride skis are wide and have a lot of rocker, which helps them float in fresh and chopped-up snow. 
The evolution of freeride skis has followed the development of the Freeride World Tour. A competitive freeride skiing competition. 
The dimensions of freeride skis vary between specific models. But generally have a wide waist width between 104mm and 120mm, large rockered tips and tails, camber underfoot, and a turning radius between 15m and 25m.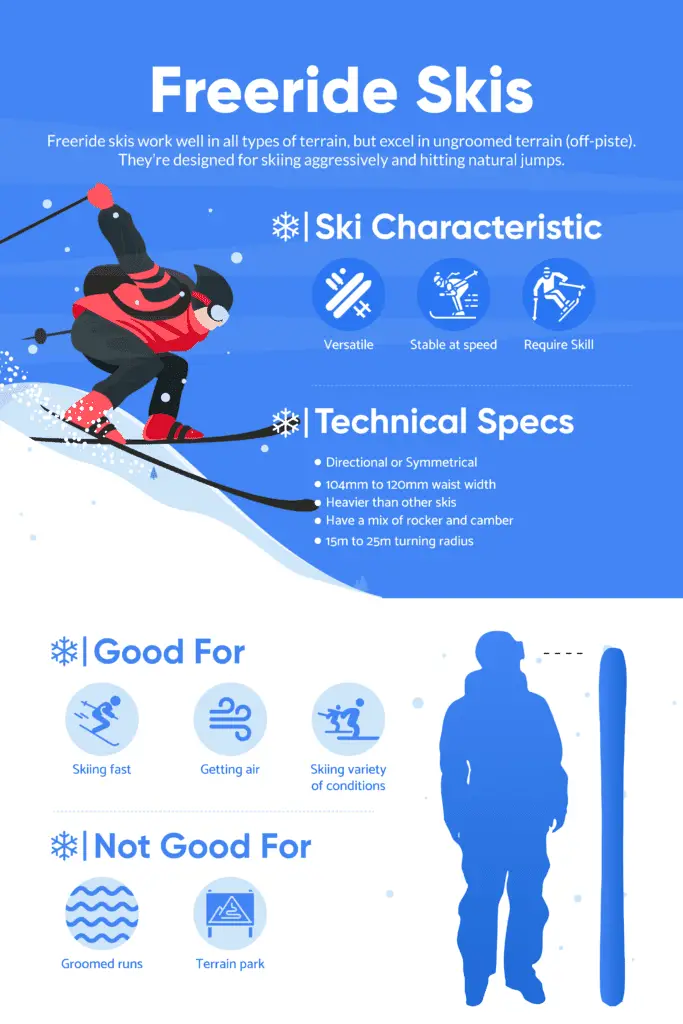 Three Characteristics That Define a Freeride Ski.
Versatility – Similarly to all-mountain skis, freeride skis are incredibly versatile. They work well all over the mountain in various snow conditions, from groomed runs to deep powder. However, compared to all-mountain skis, freeride skis work better in softer, fresher snow.
Stable – Freeride skis are very stable. They love to ski fast and land large airs. For this reason, it's common to find these skis made with stiff woods and metal titanal sheets.
Require skill – Since Freeride skis are heavier and longer than your average ski, they require a certain amount of skill to ski. That being said, some specific models are welcoming to beginners.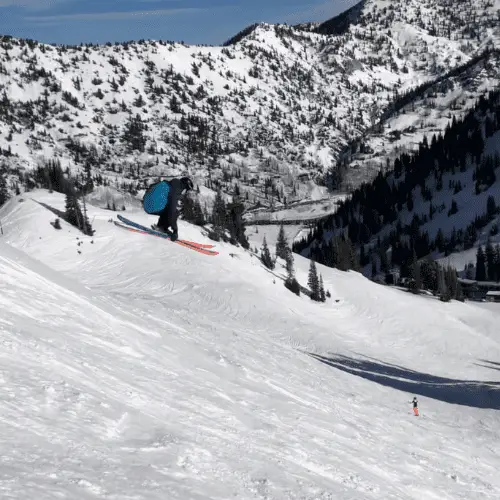 Freeride Skis Based on Ability
Beginners
Beginners should use a freeride ski between 100mm and 105mm wide. For length, the ski should be even with your nose or shorter. This makes sure the ski is easy to turn. Beginners can also use all-mountain skis for freeriding.
Intermediate
Intermediate skiers should use a freeride ski with a width that suits their ski conditions. Wider for softer snow and narrower for harder snow. Go with a length that is eye level. 
Advanced
Intermediate skiers should use a freeride ski with a width that suits their ski conditions. Choose a length that suits your style of skiing. Longer if you like to go faster. Shorter if you like a more maneuverable ski.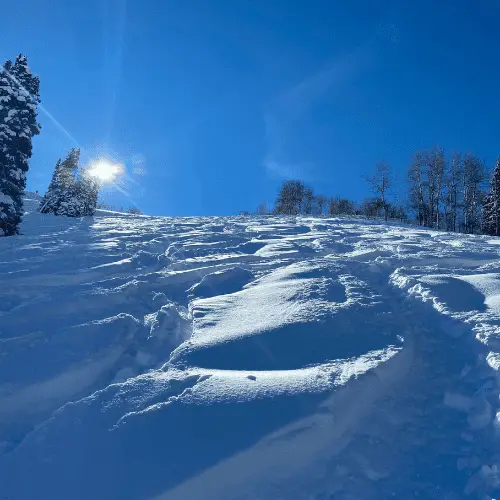 Technical Information
Construction
Freeride skis are built two ways. Either with all wood or with wood and metal. 
All wood skis are lighter and have more flex. These skis feel more playful but are not as stable at high speeds.
Skis with metal underfoot are heavier and stiffer. The extra weight makes the ski more stable at high speeds and through chop. These skis are great for sending large airs and straight-lining 45-degree slopes. But the extra weight can make them tougher to ski.
Shape
Freeride skis are either directional or symmetrical. 
Directional skis are like skiing forward. They can ski backwards a little bit if needed.
Symmetrical skis can ski forward and backwards. This shape is great for freestyle skiing and landing switch. Symmetrical skis usually have their binding mounted at the center of the ski.
Camber Profile 
Freeride skis have rocker and camber. The camber underfoot helps the ski hold an edge on firm snow. The rocker helps it float in fresh and chopped-up snow. 
The specific camber profile depends on the model of the ski. Typically they have more tip rocker and less camber than all-mountain skis.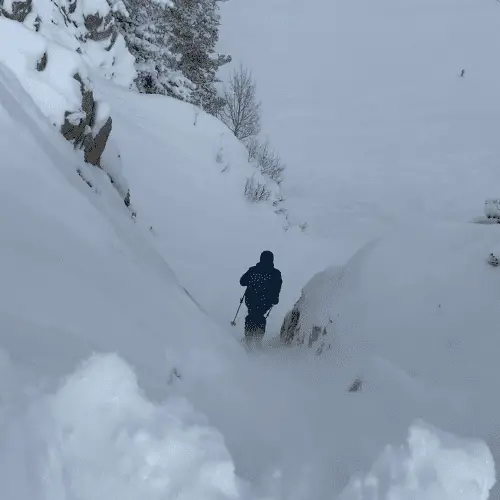 What Size Should a Freeride Ski Be?
Choose a length that is even with your eye level. Since these skis have less effective edge, you can use a longer skier than you would normally use.
If you're more advanced, you can go longer venturing to a ski that is taller than you. If you are new to skiing, choose a length between your chin and nose. Need help finding the right length? Check out this ski size calculator.
What Are Freeride Skis Good For?
Freeride skis are great for skiing the whole mountain, hitting airs, skiing steeps, and testing your abilities.
They work especially well going fast off-piste. To get a good understanding of what freeride skis are meant for, check out the Freeride World Tour. You'll see athletes pushing these skis to their limits.
Can You Use a Freeride Skis On-Piste?
Yes, you can use freeride skis on-piste. They carve nicely. But they will not carve as well or turn as quickly as narrow all-mountain or race skis. 
These skis prefer softer snow. But they will work well on groomers as you warm up in the morning or on the way back to the chairlift.
What's the Difference Between Freeride Skis and Touring Skis (aka Backcountry)?
Freeride skis are heavier and stiffer than backcountry skis. Freeride skis prioritize downhill performance, whereas backcountry skis prioritize uphill and downhill performance.
You can use lighter freeride skis as backcountry skis.  This is often what pro skiers do when they are ski touring.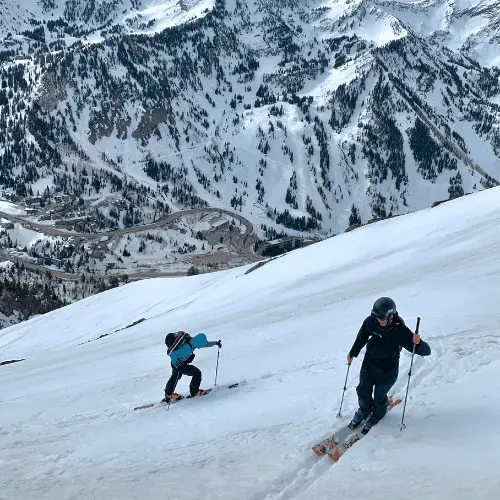 Freeride Skis vs. Powder Skis
Freeride and powder skis are similar. Freeride skis tend to be stiffer and have a more directional shape. The freeride category includes narrower waist-width skis. As the skis get wider, they can fall into both categories. 
Freeride Ski Recommendations
One of my friends uses this ski as his freeride competition ski. At 108mm wide, it's the perfect west-coast daily driver. The titanal underfoot gives it a smooth ride and the ability to go really fast. But it's also not some super burly charger. K2 has made this ski accessible for skiers of all ability levels.
The Faction Prodigy 3.0 is my daily driver. It works amazing as a freeride ski because it has plenty of rocker in the tips and tails but is stiff enough to support you skiing fast. My only gripe is I wish the tips were larger. But lucky for you, this is something they changed in this year's ski. 
The Moment Deathwish is a unique ski. It uses Moment's triple camber design to give it exceptional edge hold, resulting in a fat ski that carves like a 90mm ski. But it also loves to go fast and blast through soft chop with ease. Another one of my ski partners uses this ski as his daily driver, and I haven't seen an instance where it held him back. 
The Anima is regular on the Freeride World Tour, usually piloted by Kristofer Turdell. The Anima is a great option for a wide freeride ski that can float in powder but hold its own on hardpack and in chop. 
How to Take This Knowledge to the Ski Shop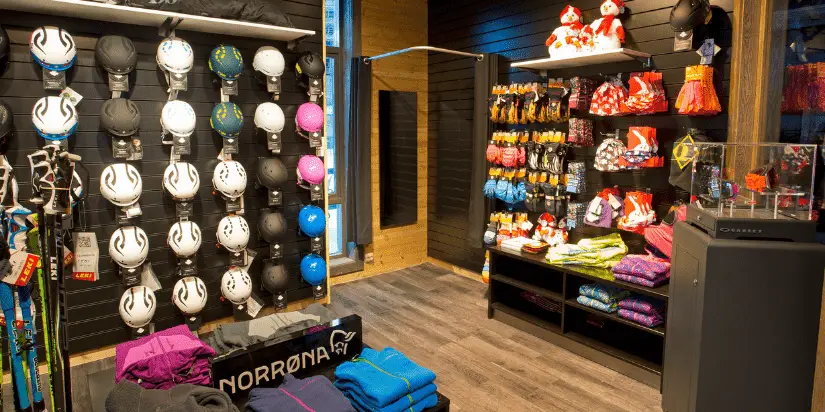 Now it's time to put this knowledge to use.
If you're looking to buy or rent a pair of skis, here's what I recommend. Think about the snow conditions you'll use this ski in. If it's hard snow, go with something narrower, 104mm – 110mm. If it's softer, go anywhere from 104mm – 120mm.
Now reread the sections about construction and shape and think about how you like to ski. Do you ski backwards? How fast do you like to ski? If you like to go fast and never ski backwards, use a directional metal ski. If you like to ski switch, you need something symmetrical.
Then either head to your local shop or e-commerce store. You can immediately narrow down the skis you're looking for by waist width. Then you narrow the selection down by what they have in your size. Then look at the construction and shape of the ski. 
With this knowledge, you'll be able to make a more informed selection. I still recommend talking to employees or chatting support. This will help you learn the nuances between certain pairs of skis. But rest assured that you are more informed than 75% of the people who walk into that store. 
I hope this post clearly explains freeride skis. Please reach out if you have any questions or suggestions on what I should add to the article.