Are you looking for ski storage ideas and how to store your skis? Look no further. This article has everything you need.
If you're a skier, you probably love your skis. These wooden planks are key to enjoying your time on the mountain.
To keep your skis in good condition, you need to store them properly. Sure, you can just throw them into the garage when you get home. But eventually, those edges will start to rust, and the top sheets will show signs of wear, ultimately wearing out your skis.
So here are some ski storage ideas for inspiration and some best practices for storing skis.
Ski Storage Ideas
There are two types of ski storage, vertical and horizontal racks.
---
Disclaimer: This page may contain affiliate links.
---
Vertical Ski Racks
A vertical ski rack holds skis straight up and down with the tips pointing to the sky and the tails pointing to the ground. Vertical ski racks can work in numerous ways.
Ski Tip Rack
A ski tip rack uses the tip rocker of your skis to hold the skis in place. This is the most common type of ski rack. It can store a lot of skis without using any floor space, but it does require wall space. 
You can easily make this rack yourself. There are also numerous premade racks you can buy to fit your desired aesthetics. I like this rack as it's versatile, and this is a great option if you want something more high-tech.
(Love skis? Learn what skis you need in your quiver here.)
Display Wall Rack
The display wall rack holds your skis by the waist, with the base of the ski facing the wall and the top sheet and binding facing out. This type of rack is the best for showing off your skis and highlighting that awesome graphic. 
However, a pair of skis takes up a lot more room with this type of rack. Also, This isn't as versatile because it holds skis by their waist width, which can vary from ski to ski. 
While the product photos are snowboards, this rack is a great cheap option. Just drill the holds closer together. I also love this high-quality rack that J Skis sells.
Free-Standing Rack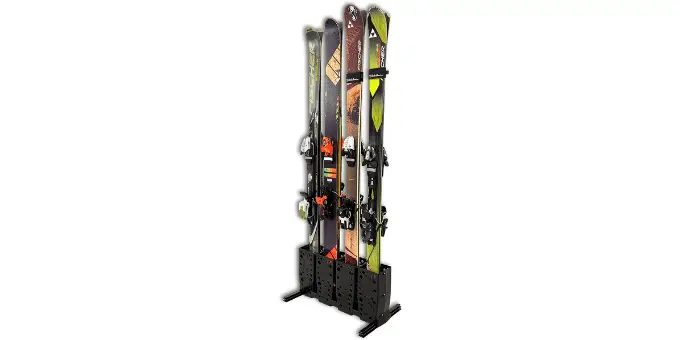 The free-standing ski rack holds your skis by their tails. They are the racks you see outside of a ski shop. This rack is great for storing a lot of skis without using any wall space. This rack is not as versatile as the ski tip rack, yet it is more versatile than the display wall rack. 
With this type of rack, you need to keep in mind the tail width of your ski and how much rocker it has. This rack can easily store flat tail skis but will require a larger tail holder if your ski is rockered or very wide. 
Here's a great no-frills option.
Horizontal Ski Rack
A horizontal ski rack uses two arms to hold skis sideways, perpendicular to the wall. This is a great way to store a lot of skis on a wall or overhead.
Horizontal Wall Ski Rack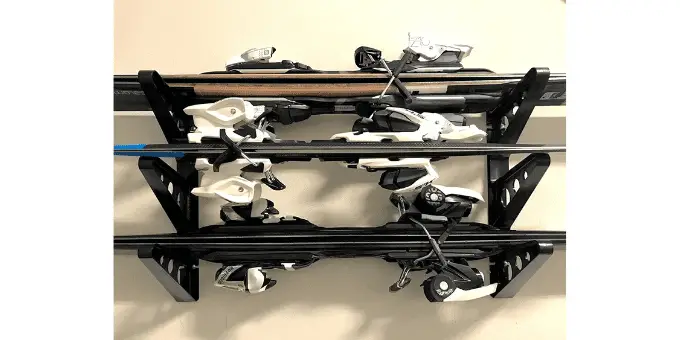 The horizontal wall ski rack has two arms that bolt into the wall. These arms extend at either a 90-degree or 45-degree angle. The length of the rack's arms determines how many skis it can fit. 
These racks are a great way to store multiple skis with just one rack. However, it requires wall space, and it is tough to access skis that are on the bottom of the rack below other pairs.
Slotted Ski Wall Rack
The slotted wall rack used two bars mounted vertically on a wall parallel to each other. Both bars have slots or cutouts in them that hold skis by the waist, similar to the display rack. 
This rack is different because each pair of skis has its own individual slot. This rack is an excellent option if you do not want your pairs of skis touching each other. 
This rack requires wall space and cannot hold as many skis as a horizontal ski rack but protects and showcases each set.
Ceiling or Rafter Rack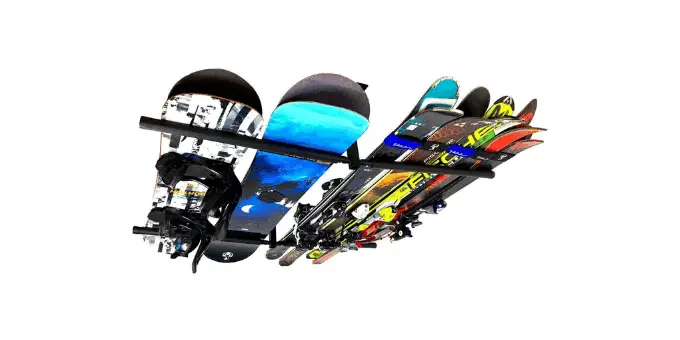 The other option for horizontal ski storage is the ceiling or rafter rack. The roof rack uses two "U" shaped arms to hold the skis by their tips and tails, suspended from the roof. The rafter rack simply involves sliding your pairs of skis into the rafters of your garage.
These racks take neither floor nor wall space. They only require ceiling space. This rack's main drawback is it's tough to access the skis once they are in place. Therefore, the ceiling rack is better suited for long-term storage. 
I like this one because it only uses two mount points, and this rack because of its capacity. 
How to Store Skis
Now that you have a rack, here's the best way to store your skis. These easy ski storing tips will help them last longer and perform better.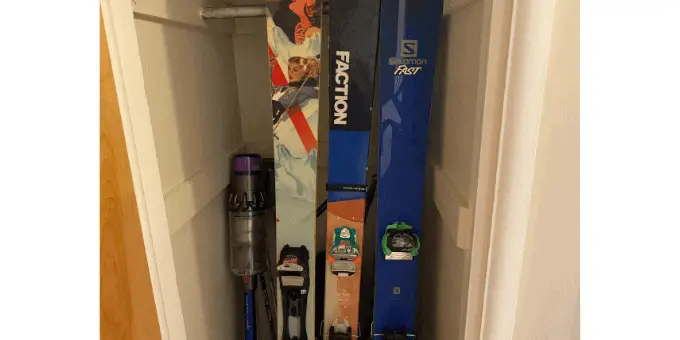 Dry Your Skis 
When you get back from the hill, wipe down the bases and edges of your skis with a dry rag. This will help prevent rust on the edges and will clean the bases. 
Secure Your Skis with a Ski Strap
After you wipe your skis down, secure them with a ski strap. A ski strap will make them easier to carry and prevent the edges from scissoring, which dulls them. I use a polyurethane ski strap, but you can also use a velcro cloth strap.
Store in a Dry Location
After your skis are dried and strapped together, store them in a dry location that is out of direct sunlight. Avoid sunlight as it can dry out your skis. Further, avoid humidity as it can cause the edges and parts of your bindings to rust. A dry garage, gear cabinet, basement, or shed works well. If you want to read more about this, Wagner has a great article.
If Storing for a Long Period, Like Summer, Wax Them
Lastly, wax your skis if you plan on storing them for longer than a month. Wax your skis and leave the wax on the bases and edges. If the polyurethane base dries out, it loses its ability to glide and retain wax. Then when you go skiing next, scrape off the wax, and you are good to go.
Hopefully, these tips help you develop a clever way to store your skis and remember to dry your skis and wax those bases.