Curious about Gore-Tex fabric? In this post, I'll cover what Gore-Tex is, how it works, and if it's worth buying.
As a skier, I spend countless weekends on the mountain standing in the liftline. As I wait for the chair, I observe my fellow skiers and look at the gear they're using. In the sea of technical outerwear, Gore-Tex seems to be everywhere. But there is a good reason for this.
Gore-Tex is the premium waterproof fabric outerwear brands use when they make jackets designed for the toughest conditions.
---
Table of Contents:
Disclaimer: This page may contain affiliate links.
---
What is Gore-Tex?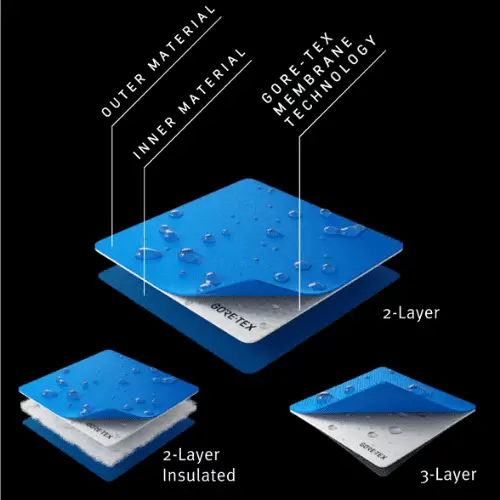 Gore-Tex is a breathable waterproof and windproof fabric. It is a microporous polytetrafluoroethylene membrane with holes small enough to keep water droplets out yet allow gas to pass through them freely.
It is superior to other forms of waterproofing because the porous construction allows sweat to evaporate from the inside of the garment. 
Outdoor recreation brands use this fabric to make waterproof garments for high output activities in extreme weather conditions, like skiing, snowboarding, climbing, and alpinism. Brands can either purchase the fabric from a certified supplier or make their own version of the material and send it to Gore for testing and approval.
When Was Gore-Tex Invented?
1969 by Bob Gore invented Gore-Tex. His Dad, Bill Gore, was former engineer at Dupont, the inventors of Teflon. The technology is now a registered trademark W. L. Gore & Associates 
How Does Gore-Tex Work?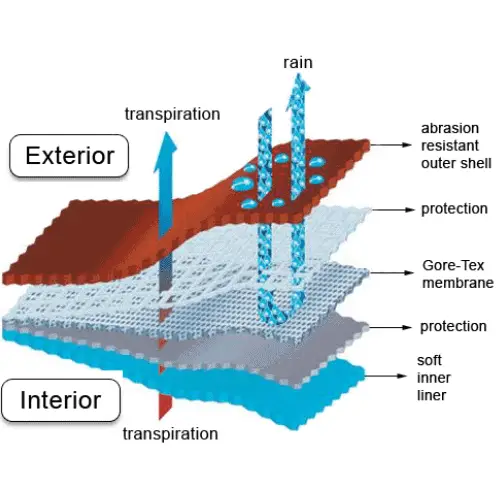 Gore-Tex is a tiny microporous membrane that has billions of tiny pores. These pores are so small that water droplets cannot pass through them. However, gas can pass through the membrane since its molecules are even smaller than the pores.  
This is why the Gore-Tex membrane is waterproof and breathable enough to let your sweat evaporate through the fabric.
How is Gore-Tex Made?
The Gore-Tex membrane is with polytetrafluoroethylene, or PTFE for short, the same chemical compound found in Teflon. The membrane fabric is made by heating the polytetrafluoroethylene and stretching it extremely thin.
Two and Three-Layer Construction
The Gore-Tex membrane is thin, around 0.01mm, therefore it needs to be bonded with another material to make a garment. Typically this is a two or three-layer construction.
In a two-layer (2L) construction, the Gore-Tex is bonded to an outer face fabric with a Durable Water Repellent (DWR) finish. The inside of the garment has a polyester lining. Two-layer garments are heavier, typically combined with insulation, and bulkier. These garments are great for resort skiing and wearing around town.
In a three-layer (3L) construction, there are two membrane layers on the inside of the face fabric. The middle layer is a traditional membrane. The membrane closest to your skin is hydrophilic, water-absorbing. This wicks away any sweat inside of the garment. Three-layer garments are lightweight and more expensive. These garments work best for freeride skiing and ski touring.
Environmental Impacts of Gore-Tex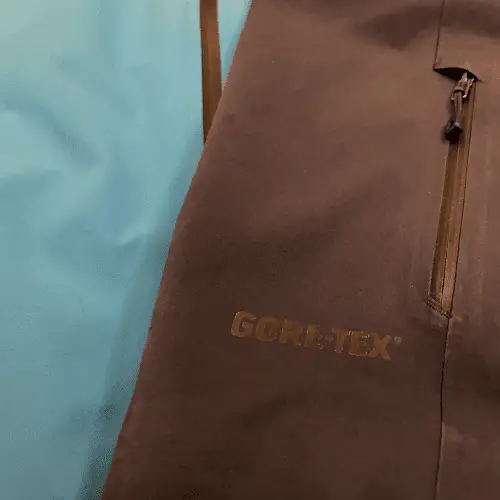 Environmental agencies have criticized gore-Tex because some fabrics may contain poly-fluorinated chemicals (PFCs). These artificial fluorinated gases can stay in the environment, specifically the atmosphere and water, for 2,600 and 50,000 years.
However, in 2017 Gore set a goal to eliminate all PFCs of Environmental Concern by 2020, a giant step towards reducing the impact of their fluor materials.
Other brands like Patagonia and Norrona are also striving to reduce the impact of this fabric by offering garments made from recycled PTFE fabric.
Alternatives to Gore-Tex
Many brands have developed alternatives to Gore-Tex. These alternatives either help brands save costs or give them other properties not found in the Gore-Tex membrane. 
Futurelight – Futurelight is The North Face's new premium in-house fabric. Using recycled materials and sustainable chemicals, TNF set out to create a waterproof and air-permeable fabric, which means that it can transfer the water vapor from sweat and the heat itself. Learn more about Futurelight here.
H2No – Is Patagonia's in-house waterproof fabric. It uses polyester and polyurethane to mimic Gore-Tex. But it's chasing a new way to hold up to hydrolysis, which occurs in hot and humid environments.
eVent – Similar to Gore-Tex, eVent also uses polytetrafluoroethylene. However, they have their own proprietary process.
Do You Need Gore-Tex for Skiing?
 

 

View this post on Instagram

 
It depends on the type of skiing you are doing.
If you are doing high output (you're sweating a lot) ski activities when it's snowing, like freeride or backcountry touring, get Gore-Tex. The fabric is virtually waterproof, it's breathable, and it's robust enough to shrug off tree branches and tomahawks with ease. 
If you're a fair-weather skier or simply don't sweat a ton, you can use Gore-Tex alternatives. These fabrics will keep you dry but will not be as breathable and may not last as long.
Is Gore-Tex Worth It?
There is a reason all of the premium brands use Gore-Tex. It works very well. 
If you ski in wet conditions, Gore-Tex is worth the money. It is the best quality waterproof fabric on the market, and if you care for it properly, it will last for years on end.
If you do not want to fork out the cash, the alternatives will work just fine. Most large brands would not sell a fabric that they cannot stand behind. If you're worried about the quality, get a garment with Patagonia's H2No. Their Ironclad guarantee covers the garment for life.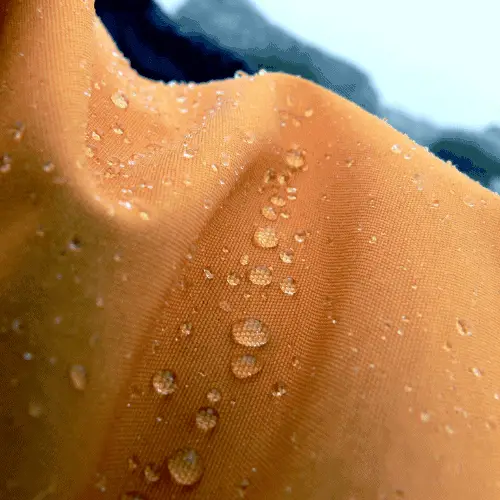 Ski Jackets
Gore-Tex is used in many ski jackets. Brands including Arc'teryx, Burton, The North Face, and Patagonia all use the fabric in their ski jackets. These jackets are the highest quality outerwear you can buy and will keep you dry no matter the conditions. You can tell if the jacket uses the Fabric because it will have the Gore-Tex logo somewhere on the garment. 
Ski Pants
Both ski pants and ski bibs are made with Gore-Tex. Again it depends on the brand making the garment and which garment you choose. Both the pants and bibs will be waterproof. However, pants typically use a 2L construction and have insulation, where bibs are usually made with a 3L construction without insulation.
If you sweat a lot and ski in deep snow, I recommend a pair of bibs.
Ski Gloves
Gore-Tex ski gloves are well worth the purchase. The last thing you want on the mountain is cold hands. Look for a pair of gloves that has the Gore logo on them. I recommend a pair of Black Diamond gloves. I currently use a pair of their mittens and love them.