When you're skiing, you need to protect your face from the elements.
But what's the best way to do this?
Wear a face tube and sunscreen to protect your face while skiing. The face tube keeps you warm on those cold days and protects you from getting windburn. The sunscreen shields your face from the harmful UV rays radiating from the sun and snow.
Now let's dive into why this one-two combo is the best way to protect your face from the sun.
What is a Face Tube?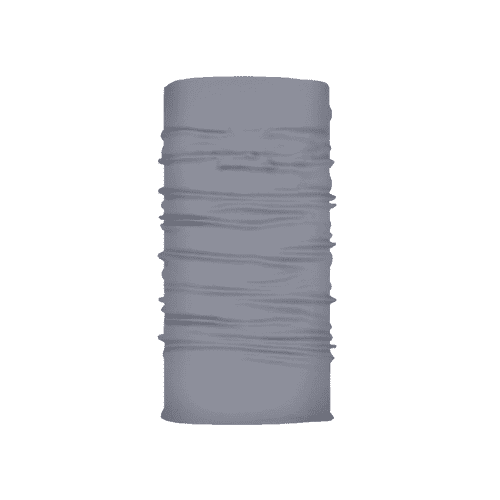 A face tube might be a foreign concept if you're new to skiing. So let's define it before we move on.
A face tube is a cylindrical piece of fabric designed to protect your face from the wind, sun, and cold. It is typically made out of polyester, which gives the tube some stretch. A face tube is worn around your neck. The top of the tube is pulled over the back of your head and the front rests just on your nose.
While this small piece of fabric may seem minute, it goes a long way in protecting you from the elements.
How a Face Tube Protects You From the Elements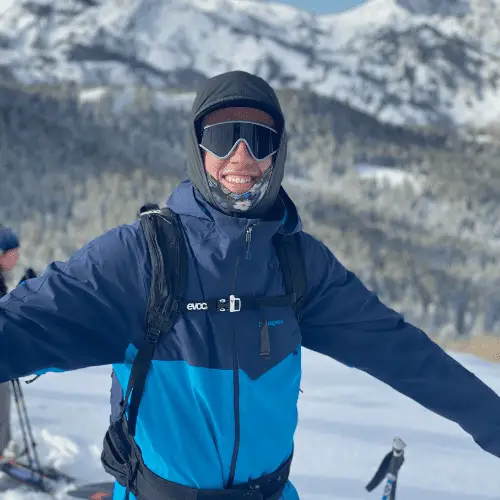 A face tube serves two purposes. It insulates and protects.
It's no secret that skiing can be cold, especially on powder days. Thankfully a face tube acts as a small layer of insulation to keep your neck and head warm. It covers the arteries in your neck, like the jugular, helping your whole body stay nice and warm.
The face tube also protects your skin from the elements. If it's really windy or snowing, the cold air can cause your face to get windburned. Pulling the face tube up over your face protects your skin from irritation.
Can You Wear a Balaclava?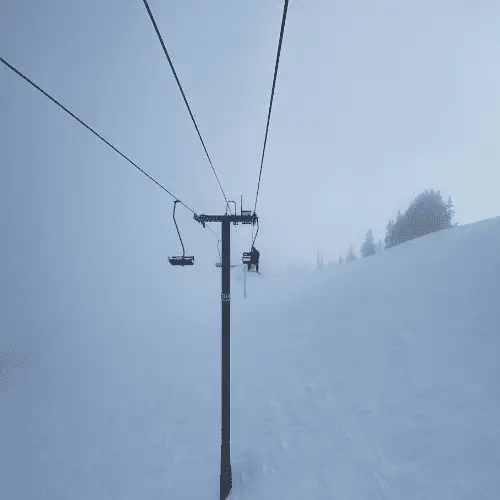 You might be asking, "can I wear a balaclava instead?" The answer is yes, but I prefer not to. 
Personally, I steer away from them. The hood goes over your head and keeps all the hot air in. This hot air has nowhere to go, and it goes out the opening on your forehead, which fogs up your goggles. To prevent this you either have to have the bottom of the balaclava down or your goggles up.
That's why I vote for a face tube. It's simpler. However, it is only one part of the equation. You also need to wear sunscreen.
Why You Need to Wear Sunscreen Skiing
Of course, we all know we need to wear sunscreen when we go outside. But this is especially true when skiing.
On a sunny day, the snow can reflect up to 90% of the sun's UV radiation, doubling its strength. If you're not wearing sunscreen, this extra strong UV radiation can burn and damage your skin. Thus, why it's also important to wear goggles.
Therefore you need to apply sunscreen to your whole face before skiing. Focus on your nose and cheek areas as they are the most exposed.
Have you ever heard of the infamous goggle tan? While some skiers are fond of the tan lines, a goggle tan is a visual representation of just how strong the reflected UV rays can be.
The Best Type of Sunscreen for Skiing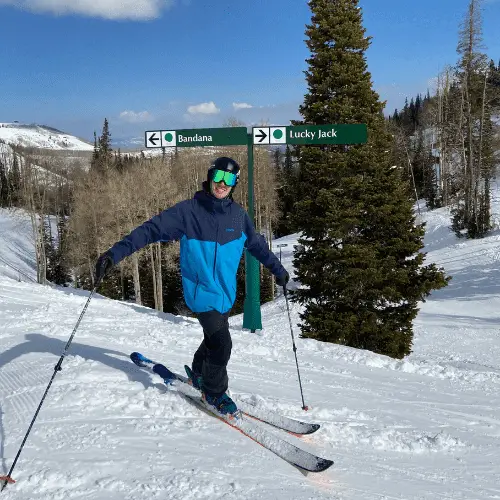 I recommend wearing active sunscreen with an SPF rating of 50+. I like active sunscreens because they do not wear off when you sweat. I also like SPF 50+ because it is strong enough to deal with the snow's radiation.
There are three sunscreens I rotate between when I am skiing.
I always have some Coppertone sport on hand because you can't beat the price. Sun Bum is another excellent option, and I love how it's cruelty-free. Lastly, I use Zinka on those high-exertion days, specifically when I am ski touring. It's the most sweat-resistant sunscreen I have found.
Face Tubes and Sunscreen the Unbeatable Combination
After skiing more than 300+ days, I've realized there is no substitute for the sunscreen and face tube combination.
The face tube will keep you warm and protect you from the elements. When it's pulled down, the sunscreen will protect you from the harmful UV rays. 
If you don't want to look like a medjool date when you're older, start protecting yourself from the elements with this one-two combo.