It's easy to be overwhelmed by numerous types of skis available today. But don't worry, this blog will explain the difference between each category of alpine ski.
If you don't know the specific ski you want, buying a new pair of skis is an unnerving process. There are numerous categories of skis, and each brand has its unique take on each category.
---
Table of Contents:
Disclaimer: This page may contain affiliate links.
---
Key Terms Explained
First, let's get some key terms out of the way.
Length – The length of the ski refers to how long the ski is from tip to tail. It is measured in centimeters. A ski comes in a variety of lengths. The length of ski that's best for you is determined by your height, ability, and intended use. You can use this calculator to get you exact ski length.
Waist Width – Waist width is how wide the ski is under your foot. The width of the ski is one way skis are categorized. Width is measured in millimeters.
Rocker – Rocker, also known as reverse camber, refers to ski shape that curves away from the snow. Typically found in the tip and tail of the ski. Rocker helps the ski pivot easier and float in fresh and chopped-up snow.
Camber – Camber is the traditional ski profile. It's the way your ski subtly arcs away from the snow. As you weight the ski, this arc gets reduced, but the shape provides energy when turning from edge to edge. Camber helps the ski hold an edge and provides stability. If you want to take a deep dive into camber vs. rocker this Wagner post is a great resource.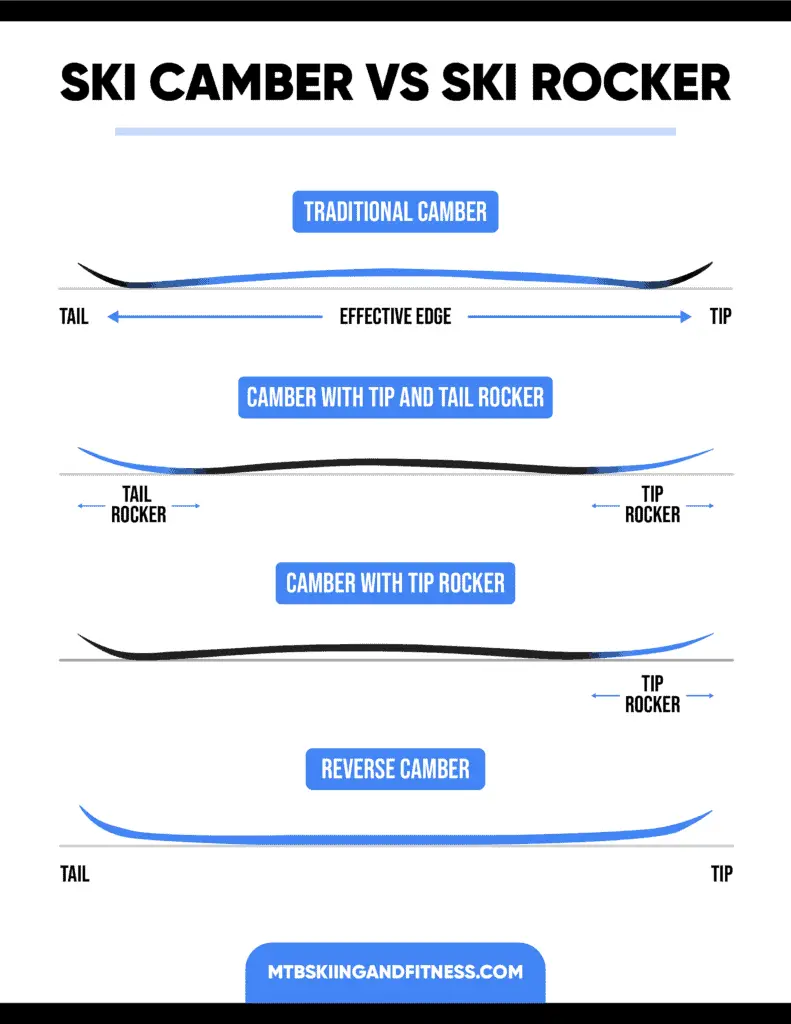 The 6 Categories of Alpine Skis
Alpine skis are skis explicitly designed to go downhill. There are six alpine skis categories, all-mountain, race, freeride, powder, park, and backcountry skis.
All-Mountain Skis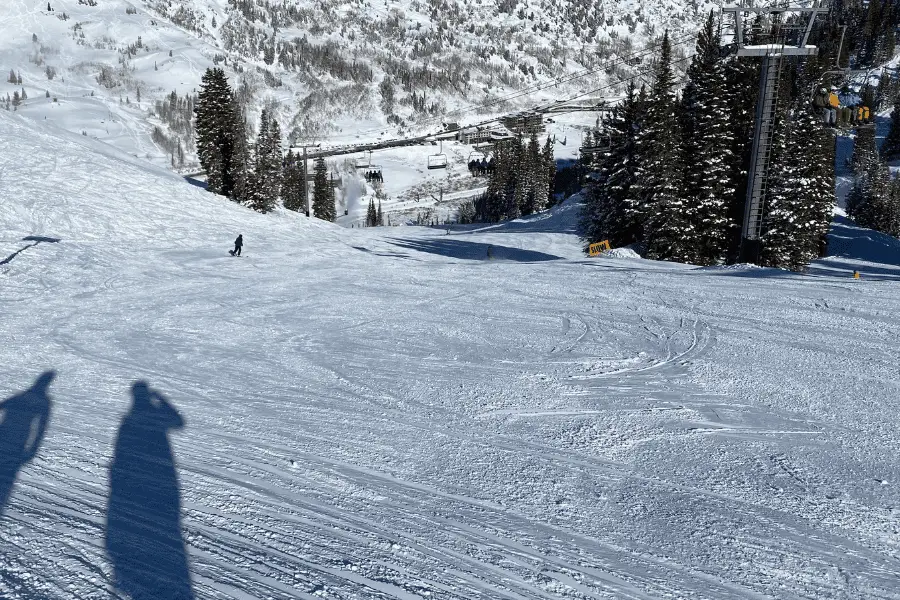 All-mountain skis are used all over the ski resort, with an emphasis on groomed snow performance.
The waist width of these skis is between 80 – 105mm. All-mountain skis typically have camber underfoot and have a little bit of tip and tail rocker or just tip rocker. The stiffness ranges from medium to stiff depending on the specific ski.
When you choose an all-mountain ski, pick a length that is even to eye or chin level. Adjust the length depending on your ability, longer for more advanced and shorter for newer skiers. 
These skis are ideal for the skier who spends most of their time on groomed runs and wants to ski off-piste (ungroomed) terrain from time to time.
Some great all-mountain include: the QST 98, KORE 99, Mantra 102, Blackops Escaper.
Race Skis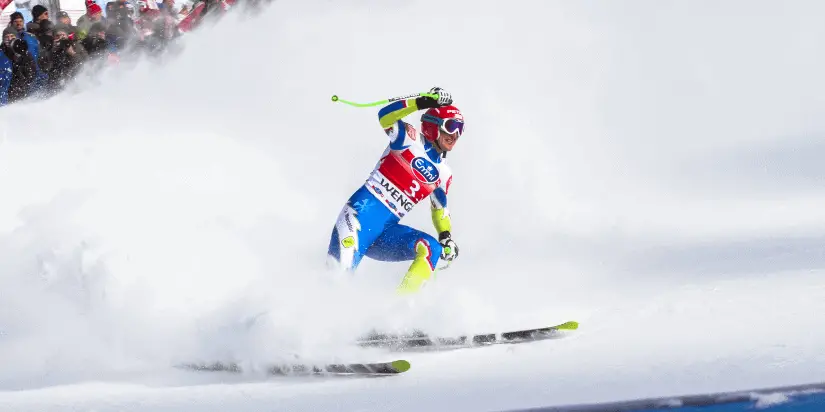 Race skis are designed to be skied aggressively on a groomed racecourse. They excel at carving, speed, and holding an edge. 
The waist width of the race skis is between 60 – 80mm. They are fully cambered with a subtle tip rocker and a flat tail. This category has the narrowest and most aggressive skis made. They are also usually the stiffest skis available. 
Choosing the right size race ski depends on your weight. Check the latest USSA/FIS Equipment Rules for sizing guidance.
These skis are for racing. They are meant specifically for groomed terrain. I only recommend getting race skis if you are racing or an advanced to expert skier looking only to ski groomed runs.
Freeride Skis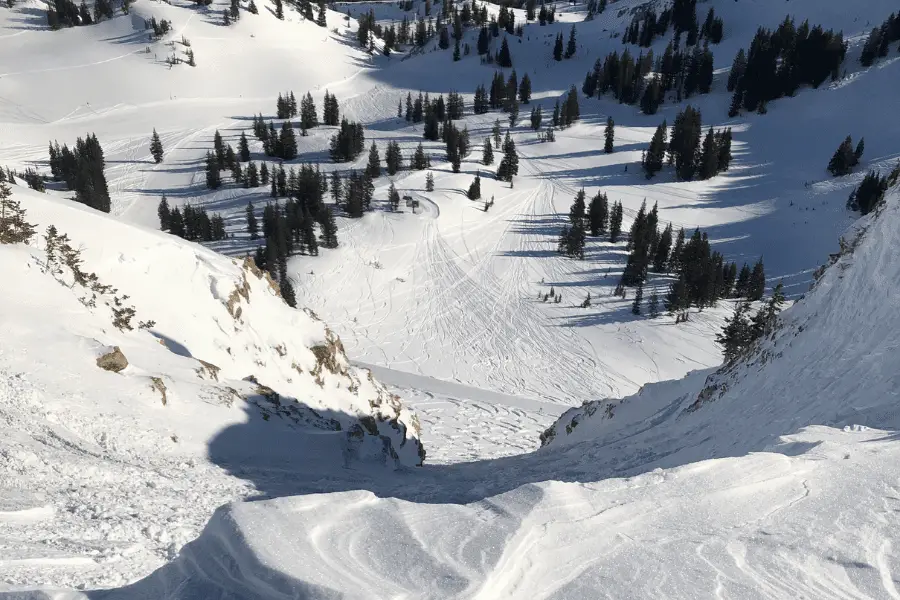 Freeride skis are designed for skiing a variety of conditions off-piste at high speeds. They excel at going fast, providing a stable ride, and floating on top of fresh and chopped-up snow. This category was popularized and arguably created by the Freeride World Tour.
Freeride skis have a waist width between 100 – 120mms. They have either camber or a flat base underfoot, paired with a large tip and tail rocker. Some powder skis are also considered freeride skis and vice versa. Freeride skis have a moderate to stiff flex. Again this varies between models.
The length of your freeride skis should be even with your chin or higher. You can easily go overhead if you're an expert or the ski has lots of rocker or a smaller effective edge.
Freeride skis are designed for playfully skiing the whole mountain. This ski category is for the skier who wants to jump off cliffs and rollers, ski powder, and go fast on open faces. 
Some great freeride skis include: the Atris, Sir Francis Bacon, Cochise 106, Mindbender 108.
Powder Skis
Powder skis are designed to ski fresh snow. They excel at skiing in fresh deep snow and struggle to ski on hard-packed, groomed snow.
Powder skis are 110-120+ mm wide. They have minimal camber underfoot with a large tip and tail rocker. Combined with a wide waist width, this rocker helps them float to the top in deep powder. Powder skis have a moderate to stiff flex.  
Similar to freeride skis, choose a ski that is at least chin height. Increase the length with your ski level.
Powder skis are perfect for skiing fresh snow or if you're going on a heli-skiing or cat-skiing trip. These skis are a great addition to any preexisting ski quiver. I would choose a narrower ski as your daily driver.
Great powder skis include: the Bent Chetler, QST Blank, Candide 5.0, Anima, and the Vision 118.
Park Skis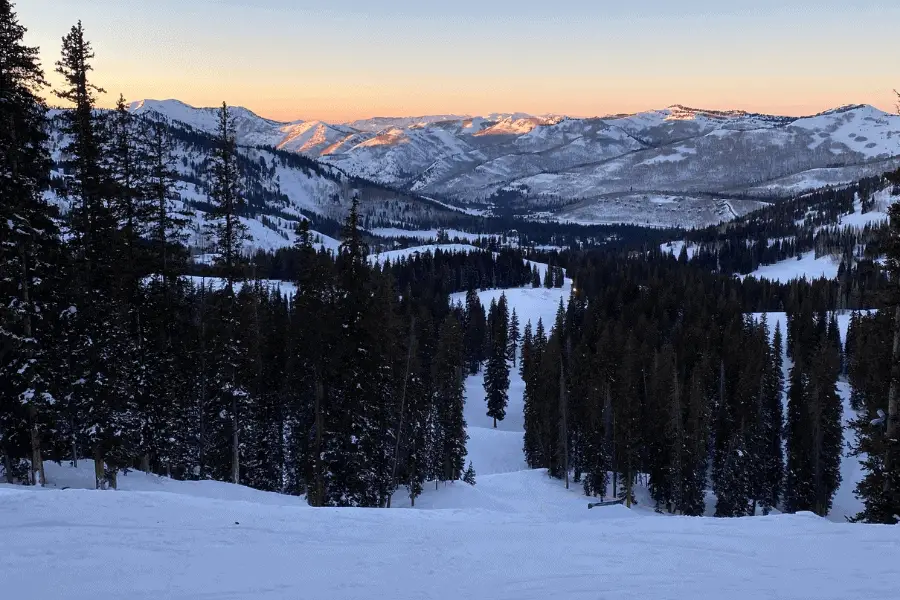 Park skis are designed for the terrain park. They excel at spinning, buttering, holding an edge, and stabilizing you when you land off of a terrain park feature. 
Park skis are between 80 – 100 mm wide. They have camber underfoot with minimal tip and tail rocker. These skis are twin tips and often are fully symmetrical to make it easier to ski backwards (switch). They come in a full range of flexes, with soft skis made for buttering and stiff skis for large park jumps.
The best park ski length is shorter than your normal skis. Go for something shorter than eye level to make it easier to spin.
Park skis are great for hitting rails and jumps. But they are outperformed by other skis on the terrain outside of the park.
Some parks skis I love include: the Blend, Poacher, & the Chronic.
Backcountry Skis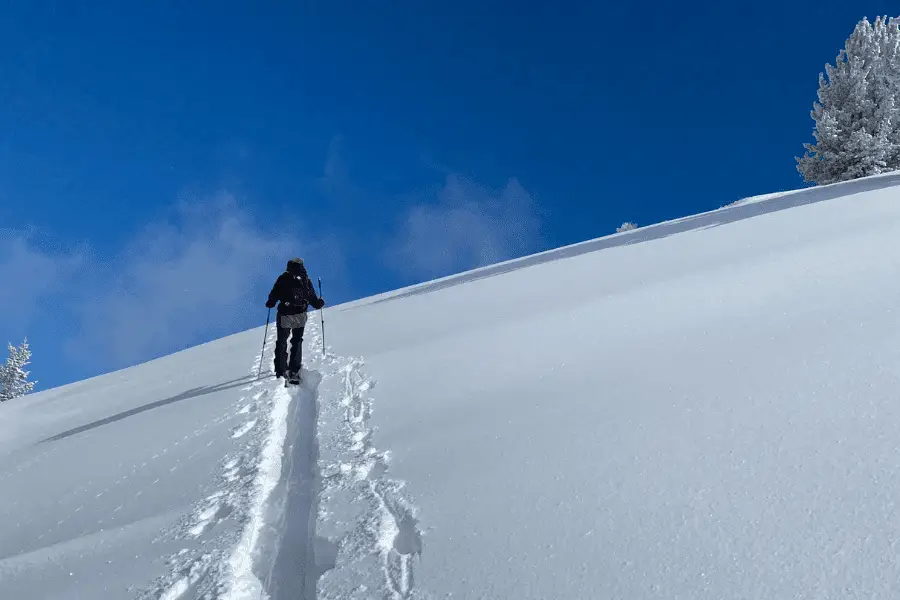 Backcountry skis are skis that are lightweight made for walking uphill and skiing downhill. Backcountry skis can fall within all of the above categories, but their lightweight is their defining characteristic.
Backcountry skis vary in width from 85 – 120cm. The narrower the ski, the lighter they will be, and as waist width increases, so does the skis' soft snow performance. These skis have a mix of camber and rocker. The amount each is used depends on the purpose of the ski. The flex also depends on the model and its purpose.
For length, choose a backcountry ski that is around eye level. You can go longer or shorter depending on your needs. Just make sure you can get a kick turn around.
Backcountry skis are great for exploring the terrain outside of the ski resort. If you plan to ski inbounds and venture out of the resort occasionally, a ski with a hybrid binding is a better option.
Backcountry skis I love include: the Corvus Freebird, Backland 117, & the Helio 95.